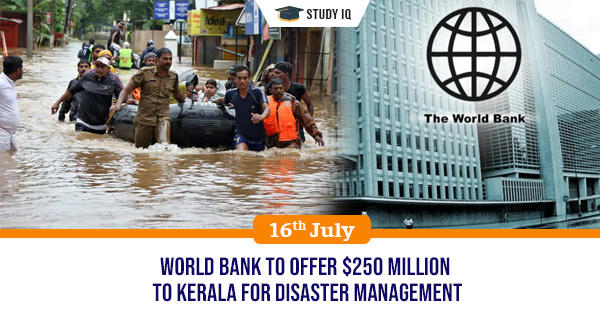 World Bank to offer $250 million to Kerala for disaster management
Date: 16 July 2019
Tags: Environment
World Bank has announced that it will offer loan of $250 million to Kerala Government for its First Resilient Kerala project. This project is aimed at enhancing the state's resilience against the impacts of natural disasters and climate change in the wake of last year's floods.
The announcement was made during "Rebuild Kerala: Development partners' conclave," a meeting of various funding agencies for rebuilding flood-ravaged Kerala.
Background
The 2018 floods and landslides in Kerala led to severe impact on infrastructure, property, and lives and livelihoods of people in the state. One sixth of state's population(about 5.4 million people) were affected due to these floods and 1.4 million people were displaced from their homes.
About First Resilient Kerala Program
It is part of Union Government's support to Kerala's 'Rebuild Kerala Development Programme' aimed at building a green and resilient Kerala.

It is first 'State Partnership' of World Bank in India. It is also first of two Development Policy Operations aiming to mainstream disaster and climate resilience into critical infrastructure and services.

Objective:

(i) Enhance State's resilience against impacts of natural disasters and climate change. (ii) Strengthen State's institutional and financial capacity to protect assets and livelihoods of poor and vulnerable groups through an inclusive and participatory approach.

Strategy of Program:

It aims to support the State with (i) Improve river basin planning and water infrastructure operations management, water supply and sanitation services. (ii) Improve resilience of core road network. (iii) Resilient and sustainable agriculture, enhanced risk insurance for agriculture. (iii) Risk-based urban planning and strengthening expenditure planning by urban local bodies (ULBs). (iv) Unifing and mainting up-to-date land records in high risk areas (v) Strengthening fiscal and public financial management capacity of State Government.
Note: World Bank is already supporting Kerala Government through engagements such as Second Kerala State Transport Project, Dam Rehabilitation and Improvement Project, National Hydrology Project, National Cyclone Risk Mitigation Project Phase 2 and Kerala Local Government and Service Delivery Project.