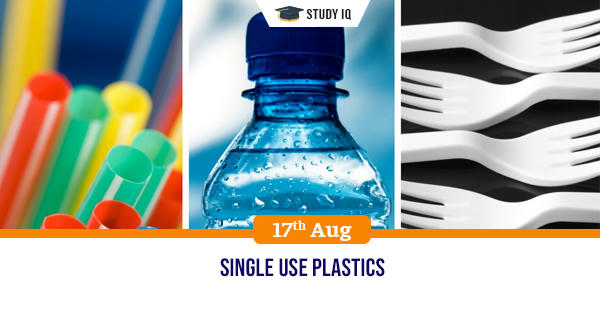 Single Use Plastics
Date: 17 August 2019
Tags: Environment
Issue
Prime Minister Narendra Modi during Republic Day speech urged citizens to eliminate single-use plastic and use cloth and jute bags instead.
Background
Plastic pollution

is the accumulation of plastic objects and particles (e.g.: plastic bottles and much more) in the Earth's environment that adversely affects wildlife, wildlife habitat, and humans.

These plastics are responsible for clogging our oceans and other water bodies causing threats to biodiversity.
What are Single use single use plastics?
Single-use plastics, often also referred to as disposable plastics, are commonly used for plastic packaging and include items intended to be used only once before they are thrown away or recycled.
Threats of Single use plastics
Single use plastics are difficult to degrade. They can stay in their present form for a long period of time.

Their effects are widespread especially on environment such as marine life, water pollution and can enter food cycle of animals including humans.
Measures to tackle threat
A ban on selected

single

-

use

products made of

plastic

for which alternatives exist on the market: cotton bud sticks, cutlery, plates, straws, stirrers, sticks for balloons, as well as cups, food and beverage containers made of expanded polystyrene

Use of alternatives to plastic such as jute, cotton, which can be used as materials to manufacture bags.

Developing bio-degradable plastics that can wither away over time rather than getting accumulated.