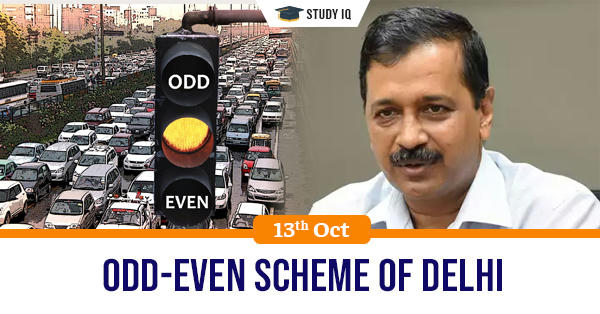 Odd-Even scheme of Delhi
Date: 13 October 2019
Tags: Environment
Issue
Delhi CM Arvind Kejriwal has announced that women will be exempted from the odd-even scheme that will be enforced in Delhi from November 4 to 15.
Background
The odd-even scheme is a measure to restrict vehicular pollution in the city by keeping the number of vehicles low during peak pollution period. This will be the third time that the scheme will be enforced in Delhi after two 15-day periods in January and April, 2016.
Details
The odd-even scheme is a car-rationing scheme borrowed from countries like China and many European nations, where it is believed to have brought down the pollution levels caused by vehicular emissions.

Under the scheme private vehicles could be on the road only on certain days, depending on their license plate number.
Need for the scheme
Delhi has been ranked on top of the World Health Organization's ranking of the world's most polluted cities for several years, with vehicular pollution contributing a significant part.

The scheme aims to change public behaviour and force them to use public transport for short term as well as longer duration.
Benefits from Odd-even scheme
Reduced traffic congestion.

Low level of toxic pollutants like PM 2.5 etc.

Improvements in public transport infrastructure.
Way ahead
Research has said that the scheme had reduced particulate air pollution concentrations by 14 to 16% but it was highlighted that it remains an emergency measure and not a long-term solution.

A long term solution involving multi-sectoral approach of developing public transport, reducing pollution levels etc can make Delhi's air breathable.