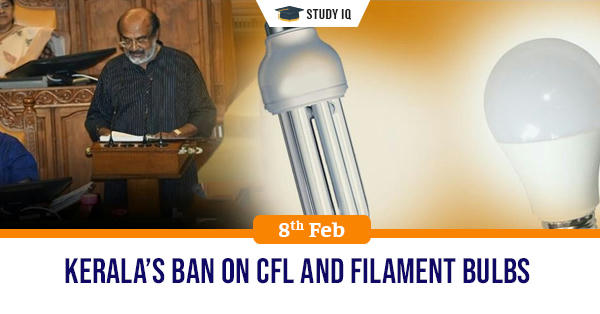 Kerala's ban on CFL and filament bulbs
Date: 08 February 2020
Tags: Environment
Issue
Kerala government has made a bold announcement that the state will impose a ban on the sale of compact fluorescent lamps (CFL) and incandescent (filament) bulbs starting November this year as part of sustainable energy policy.
Background
The project is also part of the long-term sustainable energy policy of the government to reduce the dependence on conventional energy sources and instead maximise potential on renewable sources like solar and hydel power.
Details
The announcement is in line with the government project of 'Filament-free Kerala' envisaged in 2018 as part of the state's Urja Kerala mission.

Streetlights and bulbs in government offices across the state will be converted to light-emitting diode (LED) under the mission.

LED bulbs are energy-efficient than filament or CFL bulbs and will, therefore, generate less waste. Also, filament bulbs contain the mercury element which, when broken, is polluting in nature.

The government has said that nearly 2.5 crore LED bulbs have been produced on a mass scale in the state for public consumption.

Consumers in the state can place orders for LED bulbs on the KSEB website in exchange for existing filament bulbs.

The project to install solar panels on rooftops of households and residential complexes is also being promoted for sustainable living.
UJALA scheme
The main objective is to promote efficient lighting, enhance awareness on using efficient equipment which reduce electricity bills and help preserve environment.

Every grid-connected consumer having a metered connection from their respective Electricity Distribution Company can get the LED bulbs at about 40% of the market price under the UJALA Scheme.

The Electricity Distribution Company and Energy Efficiency Services Limited (EESL) a public sector body of Government of India under Ministry of Renewable energy is implementing the programme.