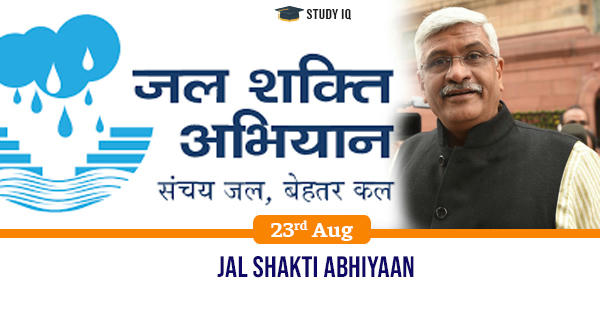 Jal Shakti Abhiyaan
Date: 23 August 2019
Tags: Environment
Issue
Some parts of the country have been reporting water shortages. Jal Shakti Minister Gajendra Singh Shekhawat has launched a conservation campaign with an emphasis on 1592 stressed blocks in 256 districts. It will be citizen participation initiative modeled on Swachch Bharat Abhiyaan.
Background
Half of India is water-stressed. The need is to start a mass movement to conserve water for future generations. At present, only about 8% of the rainwater is saved. This percentage needs to go up.
Details
The conservation efforts will be supplemented by initiatives like developing block and district water conservation plans and 'krishi vigyan Kendra melas' to promote efficient water use for irrigation and better crop choices.

In urban areas, plans with time-bound targets will be developed for wastewater reuse for industrial and agricultural purposes.

Plans will be developed for at least one urban water body for groundwater recharge in the block or the city. Scientists and IITs will also be mobilised at the national level to support the teams.
Importance of Mission
The situation can get worse in coming years, as India remains highly vulnerable to a water crisis, especially in view of climate risks.

By using water conservation techniques, large scale domestic waste water will be prevented from getting into water bodies like rivers and lakes. Recycling water can supplement to urban needs to some extent.