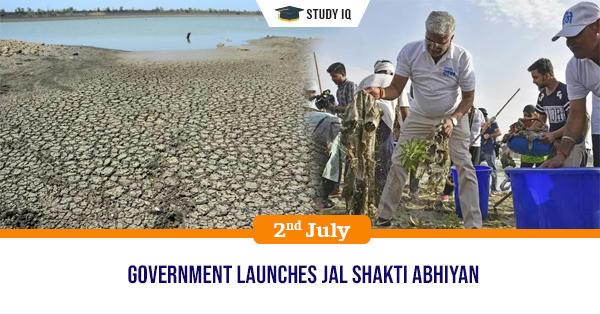 Government launches Jal Shakti Abhiyan
Date: 02 July 2019
Tags: Environment
Union Ministry of Jal Shakti has launched Jal Shakti Abhiyan, a nationwide campaign for water conservation and water security. The focus of campaign will be on water stressed districts and blocks. It is collaborative effort of various Ministries of the Government of India and State Governments, being coordinated by the Department of Drinking Water and Sanitation (DDWS).
Jal Shakti Abhiyan
It is campaign for rainwater harvesting and water conservation. It will mainly rely largely on mass awareness programmes.

Its focus will be on 1,592 "water-stressed" blocks in 257 districts. In first phase, will run through citizen participation during the monsoon season, from 1st July, 2019 to 15th September, 2019.

In additional Phase 2, it will be run from 1st October, 2019 to 30th November, 2019 for States receiving the North East retreating monsoons.

Primary Strategy:

Under this campaign Government will implement the following five important water conservation interventions in water stressed blocks viz. (i) water conservation and rainwater harvesting, (ii) restoration and renovation of traditional and other water bodies/tanks, (iii) reuse of water and recharging of structures, (iv) watershed development and (v) intensive afforestation.

Other initiatives:

The conservation efforts under this campaign will be supplemented by initiatives like developing block and district water conservation plans. Besides, 'krishi vigyan kendra melas' will be organized to promote efficient water use for irrigation and better crop choices.

Funding:

There will be no additional funding or specific targets for the campaign to achieve. Instead, the campaign will only focus "bring sensitivity on the subject, and give focussed approach".