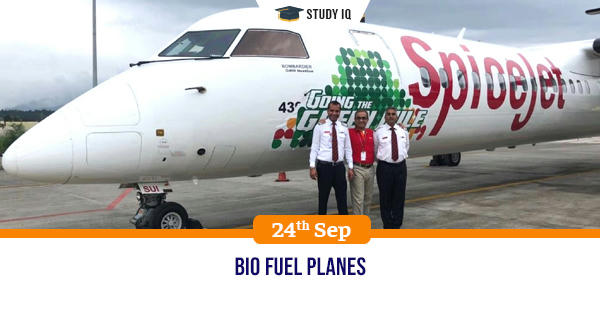 Bio fuel planes
Date: 24 September 2019
Tags: Environment
Issue
India has committed to fly 10 crore passengers on biofuel-propelled planes by 2030, SpiceJet's chairman and managing director, Ajay Singh said at UN's SDG Climate Summit in New York.
Background
SpiceJet operated its first-ever flight propelled by a blend of jatropha seeds and aviation turbine fuel for a technological demonstration. The government too has stressed on importance of biofuels and laid down the path for the future through the National Biofuel Policy.
Details
There is a need to not only find new ways to burn less fossil fuels, but also to find an alternative to fuel-guzzling planes by pursuing the development of electric aircraft for flying needs of the future.
National Biofuel Policy highlights
The policy divides biofuels into various categories like 1st generation, 2nd generation, 3rd generation, 4th generation to enable extension of appropriate financial and fiscal incentives under each category.

The Policy expands the scope of raw material for ethanol production by allowing use of Sugarcane Juice, Sugar containing materials like Sugar Beet, Sweet Sorghum, Starch containing materials like Corn, Cassava, Damaged food grains like wheat, broken rice, Rotten Potatoes, unfit for human consumption for ethanol production.

The Policy allows use of surplus food grains for production of ethanol for blending with petrol with the approval of National Biofuel Coordination Committee.

The Policy encourages setting up of supply chain mechanisms for biodiesel production from non-edible oilseeds, Used Cooking Oil, short gestation crops.

Viability gap funding for the ventures that are likely to invest in production of biofuel.
Benefits
Reduce Import Dependency on petroleum which is expected to result in savings upto rs 4000 crores of Forex.

Cleaner environment by reducing pollution level.

Infrastructure and employment generation in rural areas.

Additional income to farmers.