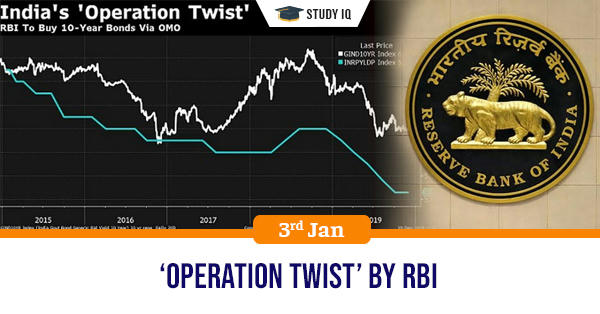 'Operation twist' by RBI
Date: 03 January 2020
Tags: Economic Planning
Issue
Reserve Bank of India (RBI) has announced a move entailing simultaneous purchase and sale of government bonds/securities through special open market operations (OMOs). This has been termed as the smalller version of 'Operation twist'.
Background
Two rounds of the monetary policy move, termed as a local version of 'Operation Twist' in financial circles, have been conducted by RBI after a careful review of the liquidity situation.
Details
In the latest round, the central bank bought 10-year bonds or securities worth Rs 10,000 crore and managed to sell short-term securities worth Rs 8,501 crore.

Earlier this month, RBI purchased govt securities (10-year bonds) worth Rs 10,000 crore and sold off short-term securities to the tune of Rs 6,825 crore respectively.
Operation Twist
Operation Twist is an RBI initiative that aims to control long-term bond yields and bring down interest rates on long-term borrowing.

Operation Twist was a term given to a monetary policy tool used by the US on two occasions to influence market interest rates. The US conducted the original "Operation Twist" in 1961 and again in 2011. The key aim, in both scenarios, was to lower long-term interest rates.

The financial tool also helps in either reducing liquidity in the market or increasing it, based on the simultaneous sale and purchase of bonds.

In both scenarios where the US initiated Operation Twist, it was to combat a period of recession and prolonged slow growth. Like the US, India has been encountering a period of a prolonged period of slow growth since the first half of 2019.
Idea behind the operation
India's economy is reeling under pressure due to a slew of factors including a slump in demand and lower consumption. The central bank has cut 135 basis points throughout the year, but has achieved little in terms of boosting demand.

Experts say the move is necessary because the present market conditions in India have made investors/customers hesitant in making long-term investments or availing long-term loans.

As the central bank buys more long-term security and sells off short term bonds, the bond yield -- the return an investor gets on his holding - comes down significantly.

Since long-term bond yield (10-year government securities) is a key market interest rate, lower rates can help people avail more long-term loans. It also helps in bringing down overall borrowing costs for the government.
Open Market Operations
Open market operations is the sale and purchase of government securities and treasury bills by RBI or the central bank of the country. The objective of OMO is to regulate the money supply in the economy.

By using this system of open market purchasing, the Federal Reserve can produce the target federal funds rate it has set.