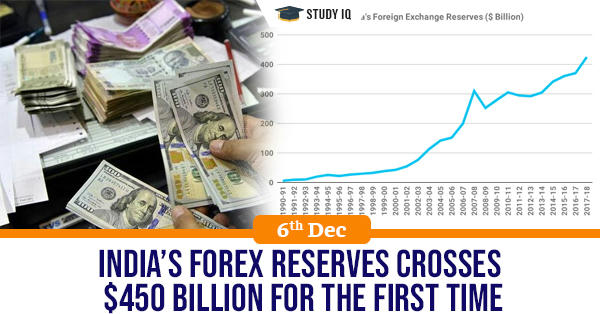 India's Forex reserves crosses $450 billion for the first time
Date: 06 December 2019
Tags: Economic Planning
Issue
India's foreign exchange reserves crossed the $450-billion mark for the first time ever on the back of strong inflows that enabled the central bank to buy dollars from the market.
Background
At $451.7 billion, the country's import cover is now over 11 months. The rise in foreign exchange reserves will give the central bank the power to act against any sharp depreciation of the rupee.
Details
Net foreign direct investment rose to $20.9 billion in the first half of 2019-20 from $17 billion a year ago while net foreign portfolio investment was $8.8 billion in April-November 2019 as against net outflows of $14.9 billion in the same period last year.

During the taper tantrums of 2013, India's foreign exchange reserves fell to $274.8 billion in September of 2013, prompting the Centre and RBI to unleash measures to attract inflows.

India's foreign exchange reserves had fallen to $274.8 billion in September of 2013, prompting the Centre and RBI to unleash measures to attract inflows. It has been a steady rise for the reserves since then, with $175 billion added in the last six years.
Forex reserves
Foreign exchange reserves (also called forex reserves or FX reserves) are cash and other reserve assets held by a central bank or other monetary authority that are primarily available to balance payments of the country, influence the foreign exchange rate of its currency, and to maintain confidence in financial markets.

Foreign exchange reserves can include banknotes, deposits, bonds, treasury bills and other government securities.

The central bank holds a significant amount of reserves in their foreign exchange. Most of these reserves are held in the U.S. dollar since it is the most traded currency in the world.

Components of Forex
Foreign Currency Assets.

Gold.

Special Drawing Rights (SDRs)

Reserve Tranche Position.
Taper Tantrums
The phrase, taper tantrum, describes the 2013 surge in U.S. Treasury yields, resulting from the Federal Reserve's (Fed) announcement of future tapering of its policy of quantitative easing.

The Fed announced that it would be reducing the pace of its purchases of Treasury bonds, to reduce the amount of money it was feeding into the economy.

The ensuing rise in bond yields in reaction to the announcement was referred to as a taper tantrum in financial media.