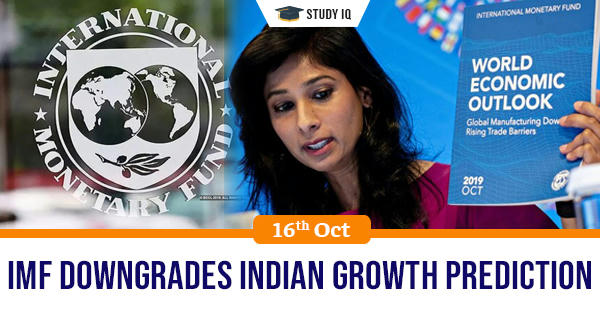 IMF downgrades Indian growth prediction
Date: 16 October 2019
Tags: Economic Planning
Issue
India's growth projections have been downgraded by the International Monetary Fund to 6.1% and 7.0% in 2019 and 2020 respectively, owing to global slowdown.
Background
The IMF has said that rising trade barriers, heightened uncertainty around trade and geopolitics, idiosyncratic factors and structural factors such as low productivity growth were the causes behind a synchronized slowdown.
Details
World output is projected to increase to a modest 3.4% in 2020 , still lower by 0.2% than the April projection.

Emerging economies will show increased growth from 3.9% in 2019 to 4.6% in 2020, while advanced economies will slow to 1.7% in 2019 and 2020.

The IMF has said that in India there has been a negative impact on growth that's come from financial vulnerabilities in the non-bank financial sector and the impact that's had on consumer borrowing and borrowing of small and medium enterprises.
Goverment's role
The Indian government had announced a number of policy measures to support a recovery including slashing the corporate tax rate and a rollback of surcharges on foreign portfolio investor.
Measures
Monetary policy easing, cuts to corporate tax, measures to address environmental and corporate uncertainty, and government programs to boost rural consumption.

Defusing trade tensions, reinstating multilateral cooperation and providing timely support to economic activity is needed.
IMF
The International Monetary Fund (IMF), is an international organization headquartered in Washington, D.C.

It consists of 189 countries working to foster global monetary cooperation, secure financial stability, facilitate international trade, promote high employment and sustainable economic growth, and reduce poverty around the world while periodically depending on World Bank for its resources.

It was formed in 1944 at the Bretton Woods Conference and came into formal existence in 1945 with 29 member countries and the goal of reconstructing the international payment system.

It now plays a central role in the management of balance of payments difficulties and international financial crises.

Countries contribute funds to a pool through a quota system from which countries experiencing balance of payments problems can borrow money.

The current Managing Director (MD) and Chairwoman of the International Monetary Fund is Bulgarian Economist Kristalina Georgieva.

Gita Gopinath is the current Chief-economist of the organisation.