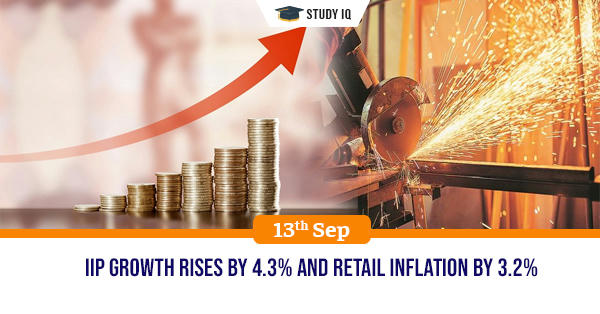 IIP growth rises by 4.3% and retail inflation by 3.2%
Date: 13 September 2019
Tags: Economic Planning
Issue
India's factory output accelerated to 4.3% in July from 1.2% a month ago, while retail inflation increased to 3.21% in August from 3.15% in the previous month.
Background
India's economy reported its weakest growth in more than six years at 5% in the June quarter and slowed for the sixth straight quarter, prompting the government to initiate measures to spur economic activity.
Details
This is the 13th month in a row for a sub-4% retail inflation figure. The Index of Industrial Production (IIP) grew 6.5% in July 2018.

The RBI has projected India's gross domestic product growth for 2019-20 at 6.9%. Moody's has pegged GDP growth at 6.4% for the same period.

Manufacturing made a strong comeback, growing at 4.2%, while electricity surprisingly decelerated, growing at only 4.8%.

Mining output grew at a robust pace of 4.9% during the month.

Consumer durables also shrank 2.7% due to the slump in automobile sales while consumer non-durables grew at a healthy pace of 8.3%.

Food inflation quickened to 2.99% in August from 2.36% a month ago on the back of rising prices of meat and fish, vegetables and pulses.
IIP
The Index of Industrial Production (IIP) is an index which shows the growth rates in different industry groups of the economy in a stipulated period of time.

The IIP index is computed and published by the Central Statistical Organisation (CSO) on a monthly basis.