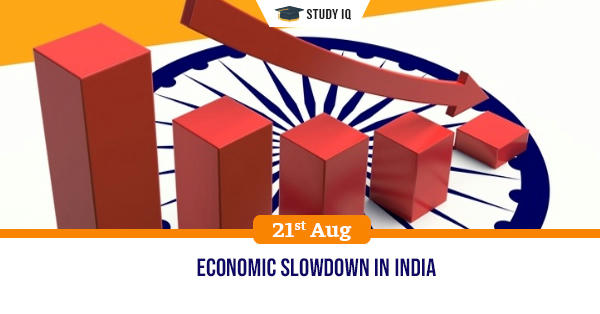 Economic slowdown in India
Date: 21 August 2019
Tags: Economic Planning
Issue

That the Indian economy is slipping into a recession is quiet apparent. The real GDP growth has gone down from a peak of 8.2% in 2016-17 to 6.8% in 2018-19, with the fourth quarter of 2018-19 dipping to 5.8%. The first quarter of 2019-20 is expected to dip further to 5.6%.
Background
There have been four global recessions since World War II, beginning in 1975, 1982, 1991 and 2009. This last recession was the deepest and widest of them all. Since 2010, the world economy has been in a process of recovery although slowly.
What is Economic Slowdown?
A recession or economic slowdown is a business cycle contraction when there is a general decline in economic activity. Recessions generally occur when there is a widespread drop in spending.

Reasons for recession can be various events, such as a financial crisis, an external trade shock, an adverse supply shock or the bursting of an economic bubble.
Reasons for Economic slowdown
The fall in private consumption, has gone down since the second quarter of 2018-19. Private consumption has been the main driver of India's growth, contributing about 60% to GDP, and its fall is dragging economic growth further down.

Gross savings have fallen from 31.1% of GDP in 2015-16 to 30.5% in 2017-18 mainly contributed by the household sector savings, which declined from 23.6% of GDP in 2011-12 to 17.2% of GDP in 2017-18.

With this decline, investment rate has gone down. This decline in wages hit private consumption due to stagnation in income and household savings declined
Measures to tackle slowdown
Since consumption expenditure is directly linked to income, especially for the lower and middle income working population of India, the idea is to improve their wages to spur consumption demand

Major tasks of the government would be to design appropriate macroeconomic responses to check the sharp decline in wages or income levels of working population and also to boost consumption and savings rate to propel growth.

To boost agricultural growth PM-Kisan scheme, which proposes an income transfer of Rs 6,000 per year to all farmers, could be seen as a measure but this scheme leaves out from its cover the most vulnerable and numerically bigger group which are the landless agricultural laborers, who constitute more than half of the total agriculture workforce in India.