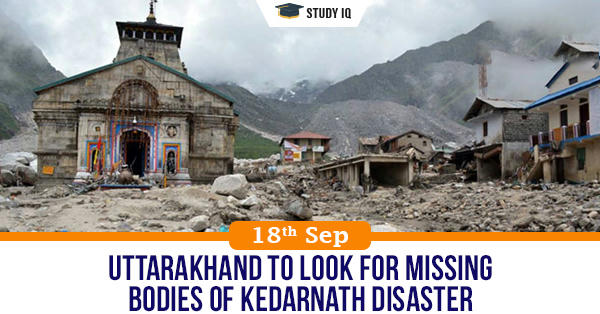 Uttarakhand to look for missing bodies of Kedarnath disaster
Date: 18 September 2020
Tags: Disaster & Disaster Management
Issue
Over seven years since unprecedented flash floods hit the Kedarnath valley, Uttarakhand government has launched an intensive week-long operation in areas surrounding Kedarnath shrine to recover skeletal remains of those who went missing in the June 2013 disaster.
Background
The State Disaster Response Force (SDRF), the police and health department, have been dispatched on 10 different routes to search for the skeletal remains, collect DNA samples.
Details
The search operation follows a directive from the Nainital High Court on a Public Interest Litigation (PIL) file by Delhi-based social activist Ajay Gautam seeking directions to the state for finding missing pilgrims or their bodies and performing last rites of the dead.

This time smaller teams have been formed and assigned comparatively smaller routes. But the assignment is tougher as they will have to search on higher places located upto 1-2 km in different directions from the main routes. Teams will have to trek towards these places and return to the main route every evening.

Past search operations were done by bigger teams who had to spend more days on longer routes. In past operations 10-member teams had been engaged who did search on 10 to 12 km routes.

Three routes of Gaurikund to Vasukitaal, Kaalimath to Rambara via Chaimasi and Gaurikund to Gounmukhda are in dense forest areas and the search teams dispatched there have been provided porters and guides for assistance.

All the teams will navigate the routes using Google Maps. Search teams will also shoot short video clips during the operations.

On August 4, the Uttarakhand government constituted a high-level multi-institutional Special Expert Committee to suggest appropriate technology/methodology to search for mortal remains of persons who went missing in Kedarnath tragedy in June 2013.

It was also submitted that the committee is to submit its report in two months to the state government and actions as suggested would be taken to retrieve the bodies of missing persons.

Set up under the IG SDRF, this committee has representatives from Geological Survey of India, Archaeological Survey of India, and Wadia Institute of Himalayan Geology, Dehradun.