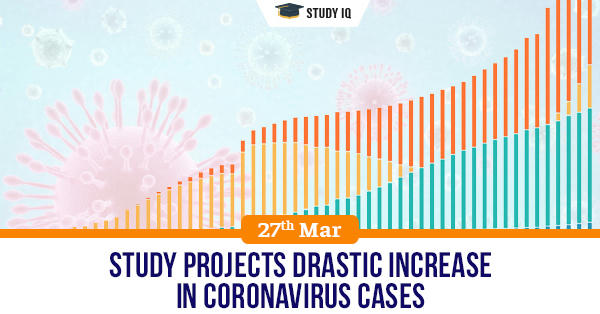 Study projects drastic increase in Coronavirus cases
Date: 27 March 2020
Tags: Disaster & Disaster Management
Issue
The 21-day lockdown has brought enormous misery and suffering to some of India's most vulnerable people, however, in the absence of aggressive government intervention, the infection could spread rapidly, says a new study.
Background
The study published by scientists at Johns Hopkins University and the University of Michigan among other American universities, uses data until March 16 and does not reflect the impact of government interventions made before (such as airport screenings and quarantines) and after that date.
Details
Social distancing measures like the ban on travel and stopping of trains and flights would likely have slowed the spread of the novel coronavirus.

The study acknowledges that the most severe form of interventions would drastically bring down the number of infected people, and restrict the spread to just about 13,800 cases by May 15, instead of 58,600. In this situation it is highly appropriate to adopt draconian measures.

The study does not specify what the "draconian measures" or "severe" interventions might be, but it does discuss the possible impact of social distancing, travel ban and lockdown, without which the number of infected people could rise to even 1.31 lakh by June 15.

The study found that an infected person in India was passing on the infection to at least two more people on average. The range of 2 to 3.5 (persons per infected person) is sensible for COVID-19 in early phase without intervention.

The study acknowledges uncertainties in their predictions, which is largely due to many unknowns arising from model assumptions, population size, accuracy of diagnostic tests for COVID-19, heterogeneity in implementation of different government-initiated interventions and community-level protective measures.