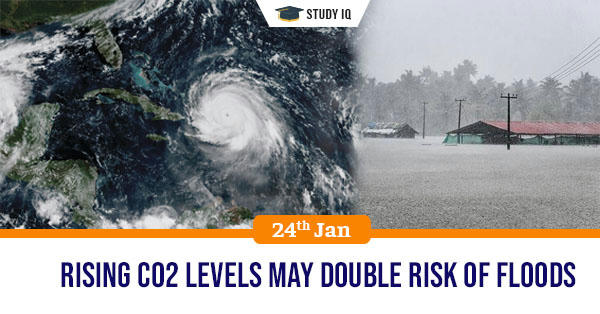 Rising CO2 levels may double risk of floods
Date: 24 January 2020
Tags: Disaster & Disaster Management
Issue
The risk of extreme floods or storms could double every 13 years at the rate carbon-dioxide concentrations are building up in the atmosphere, according to scientists.
Background
As climate is being altered due to increase in global warming potential gases, effects are visible on hydrological cycle as well, causing extreme events such as floods.
Details
The number of intense "hydro-meteorological" disasters could increase by 5.4% annually for an "average" country facing annually nearly one "extreme disaster" (defined as one that causes 100 or more fatalities and/or affects 1,000 or more people).

India faces 5-10 times as many extreme events as the average country. One more extreme event in India [such as the Kerala floods of 2018 that killed at least 400] would strain the ability of the country to cope.

The authors relied on econometric modelling which, they say, complements the traditional approach of climate modelling to explore the factors that have contributed to the increase in the frequency of flood and storm events.

Econometric modelling involves accounting for a country's vulnerability to hazards and its GDP, population density and changes in mean rainfall.
Hydro-meterological disasters
Process or phenomenon of atmospheric, hydrological or oceanographic nature that may cause loss of life, injury or other health impacts, property damage, loss of livelihoods and services, social and economic disruption, or environmental damage.

Hydrometeorological hazards include tropical cyclones (also known as typhoons and hurricanes), thunderstorms, hailstorms, tornados, blizzards, heavy snowfall, avalanches, coastal storm surges, floods including flash floods, drought, heatwaves and cold spells.

Hydrometeorological conditions also can be a factor in other hazards such as landslides, wildland fires, locust plagues, epidemics, and in the transport and dispersal of toxic substances and volcanic eruption material.