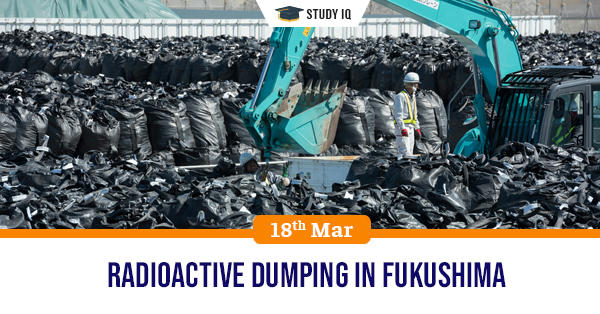 Radioactive dumping in Fukushima
Date: 18 March 2020
Tags: Disaster & Disaster Management
Issue
The nuclear disaster at Fukushima sent an unprecedented amount of radiation into the Pacific. But, before then, atomic bomb tests and radioactive waste were contaminating the sea, the effects are still being felt today.
Background
Exactly how the water should be dealt with has become highly controversial in Japan, not least because the nuclear disaster caused extreme contamination off the coast of Fukushima.
Details
Almost 1.2 million liters (320,000 gallons) of radioactive water from the Fukushima nuclear power plant is to be released into the ocean.

The contaminated water has since been used to cool the destroyed reactor blocks to prevent further nuclear meltdowns. It is currently being stored in large tanks, but those are expected to be full by 2022.

Radiation levels in the sea off Fukushima were millions of times higher than the government's limit of 100 becquerels. And still today, radioactive substances can be detected off the coast of Japan and in other parts of the Pacific.

The research found that even the smallest possible dose, a photon passing through a cell nucleus, carries a cancer risk. Although this risk is extremely small, it is still a risk.

Over the past few decades, more than 250 nuclear weapons tests were carried out on the high seas. Most of them (193) were conducted by France in French Polynesia, and by the US (42), primarily in the Marshall Islands and the Central Pacific.

But the ocean wasn't just being used as a training ground for nuclear war. Until the early 1990s, it was also a gigantic dump for radioactive waste from nuclear power plants.

From 1946 to 1993, more than 200,000 tons of waste, some of it highly radioactive, was dumped in the world's oceans, mainly in metal drums.

The US had dropped more than 90,000 barrels and at least 190,000 cubic meters of radioactive waste in the North Atlantic and Pacific.

Other countries including Belgium, France, Switzerland and the Netherlands also disposed of tons of radioactive waste in the North Atlantic in the 1960s, 70s and 80s.

The long-term consequences are clear. The radiation will be "absorbed by the marine animals surrounding it. They will eventually end up caught in fishing nets, and come back to our plates.