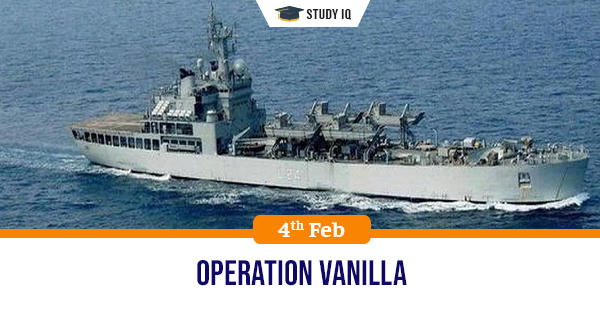 Operation Vanilla
Date: 04 February 2020
Tags: Disaster & Disaster Management
Issue
India handed over relief material and stores to the authorities of Madagascar, as part of its effort to provide relief to cyclone Diane hit areas, codenamed operation Vanilla.
Background
Indian Navy Ship Airavat, which was en-route to Seychelles was diverted to Madagascar for rendering assistance. The island nation was lashed with cyclone causing heavy flooding and landslides leading to massive loss of life and property.
Details
INS Airavat handed over urgently needed relief material comprising disaster relief stores, tents, blankets, clothing, food and medicines to local government authorities.

The Medical Team from the ship is holding a medical camp in coordination with local authorities. Indian Navy was the first international respondent to this evolving humanitarian crisis in Madagascar.

India's assistance to Madagascar is in consonance with Indian Navy's Foreign Cooperation initiatives in line with India's vision of 'Security and Growth for all in the Region (SAGAR)'.

Madagascar is also a member of inter-governmental organisation Indian Ocean Rim Association (IORA).
INS Airavat
INS Airavat is an amphibious assault ship and as part of the mission-based deployment has Humanitarian Aid and Disaster Relief (HADR) as part of its missions and carries relief material in the form of HADR bricks. This enables ships on deployment to respond rapidly to any emergent situation.
Madagascar
Madagascar is an island country in the Indian Ocean, approximately 400 kilometres (250 miles) off the coast of East Africa. It is the world's 2nd largest island country.

Madagascar belongs to the group of least developed countries, according to the United Nations.[14] Malagasy and French are both official languages of the state.

Neighboring islands include the French territory of Réunion and the country of Mauritius to the east, as well as the state of Comoros and the French territory of Mayotte to the north west. The nearest mainland state is Mozambique, located to the west.