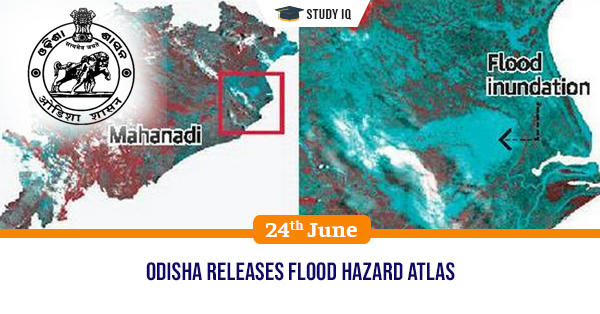 Odisha releases Flood Hazard Atlas
Date: 24 June 2019
Tags: Disaster & Disaster Management
Odisha Chief Minister Naveen Patnaik released unveiled a Flood Hazard Atlas for managing floods in the state more efficiently. It was unveiled atlas at State Level Natural Calamity Committee meeting. This atlas will help identify the disaster prone areas of the state so that necessary plans can be made to tackle the situation.
Odisha Flood Hazard Atlas
It has been prepared by National Remote Sensing Centre (NRSC), Hyderabad and Odisha State Disaster Management Authority (OSDMA).

It will help management of the flood in the state as Odisha is a flood prone state as flood causes extensive damage to life and property.

It has been made after ascertaining flood inundation data captured through satellite imagery between 2000 and 2018. It keeps the most flood hit areas in focus.

Significance:

It is expected to help the State manage floods more efficiently.

It will help to create systematically plan flood control measures. It will help to control developmental activities on floodplains. It will also help authorities to carryout relief and resuce operations. It will also help to plan relief shelters and health centres.
Flooding in Odisha
Every year vast areas of Odisha are inundated when there is flooding in major rivers, namely, Mahanadi, Brahmani, Baitarani, Subarnarekha and Rushikulya. Some of the rivers like, Budhabalanga and Vamsadhara, also cause flash floods due to instant run-off from their hilly catchments. Around 14 lakh hectare of agriculture land is being affected by floods every year in Odisha