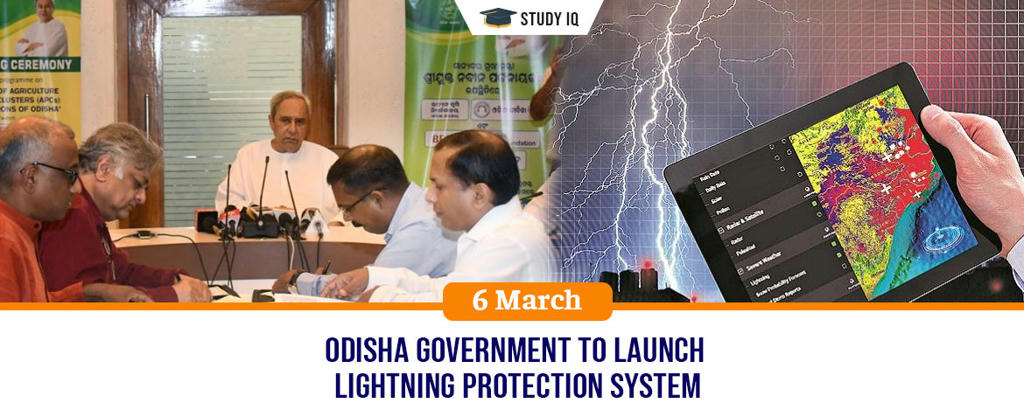 Odisha Government to launch Lightning Protection System
Date: 06 March 2019
Tags: Disaster & Disaster Management
Odisha Disaster Management Authority (OSDMA) has decided to retrofit lightning protection system in multi-purpose shelters across 25 districts in the state. This is aimed at protecting people from lightning and thunderstorm.
Lightning Protection System
In the first phase this initiative, total 640 shelters will be taken up with funding support from World Bank under National Cyclone Risk Mitigation Project (NCRMP).

These multipurpose shelters buildings will be fitted with lightning arresting systems to strengthen outdoor lightning alert system.

As part of this initiative, OSDMA in collaboration with US-based Earth Networks already have installed 6 lighting detection sensors for early warning in different parts of state. It provides prediction of lightning 30-45 minutes in advance.
National Cyclone Risk Mitigation Project (NCRMP)
Its objective is to undertake suitable structural and non-structural measures to mitigate the effects of cyclones in coastal states and UTs of India.

It seeks to minimize vulnerability to cyclones. It also seeks to make people and infrastructure disaster resilient in harmony with conservation of coastal eco-system in the cyclone hazard prone states/UTs.

It is implemented by National Disaster Management Authority (NDMA) under the aegis of Ministry of Home Affairs(MHA) in coordination with participating State Governments and the National Institute for Disaster Management (NIDM).