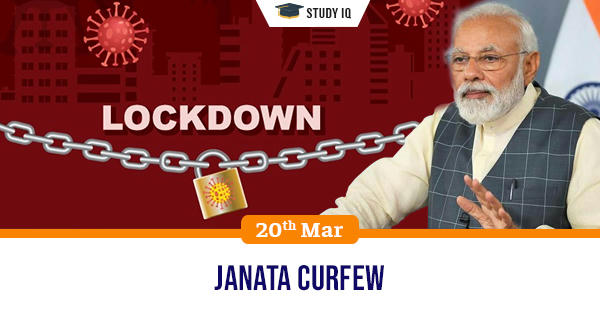 Janata curfew
Date: 20 March 2020
Tags: Disaster & Disaster Management
Issue
Prime Minister Narendra Modi had addressed the nation on the coronavirus pandemic and urged all citizens to support a 'janata curfew' on Sunday, March 22.
Background
Coronavirus is a communicable disease that spreads among people through contact. To prevent its spreading, human contacts should be reduced as much as possible and social distancing is one such measure.
Details
PM Modi said it will apply to everyone and urged all citizens to stay inside their homes. He said those in emergency and essential services should do their regular duties.

The PM also urged all state governments to take the lead in ensuring that the Janata Curfew is implemented across the country.

He urged the entire nation to stay at home for the coming few weeks to arrest the spread of the coronavirus pandemic. He said senior citizens aged over 65 years should stay indoors at all cost for the next few weeks.

The COVID-19 Response Team suggests two "fundamental strategies" to tackle the coronavirus spread. The first is mitigation, focusing on slowing the epidemic spread so as to reduce peak healthcare demand while protecting those most at risk. The second is suppression, which aims to reverse epidemic growth by reducing case numbers to low levels and maintaining that situation indefinitely.

Mitigation, which will be a mix of home isolation of suspect cases, home quarantine of those living in the same household as suspect cases, and social distancing of the elderly and others at most risk, could potentially reduce peak healthcare demand by two-thirds and deaths by half.

Suppression would be left as the preferred policy option for countries that can do this. The Janata Curfew can be seen as a step in this direction, though initially just for a day.

The team says suppression will minimally require a combination of social distancing of the entire population, home isolation of cases and household quarantine of their family members, supplemented by school and university closures. However, there will be a need to do this for longer periods to get the desired impact.