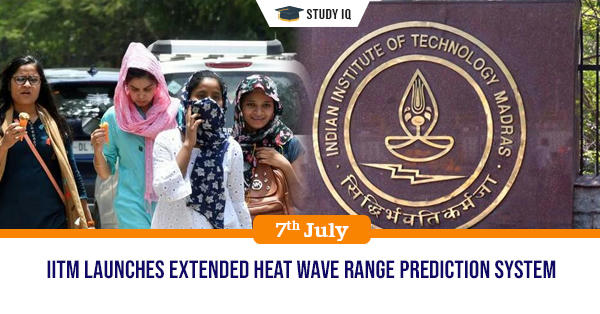 IITM launches extended heat wave range prediction system
Date: 07 July 2019
Tags: Disaster & Disaster Management
Researchers at Pune's Indian Institute of Tropical Meteorology (IITM) have developed extended range prediction system for real time prediction of heat waves two to three weeks in advance. The prediction system has been successfully transferred to Indian Meteorological Department (IMD), which has been using it since 2017. IMD had used this system to predict heat waves this year.
Extended range prediction system
It shows in advance date of onset, duration and demise of heat waves, with a small spatial and temporal error. It can predict heat waves with 70% accuracy and probability.
Significance: The short-range forecast two-three days before the onset of heat wave condition can provide more reliable information about the time and location of the heat wave condition
Findings: Based on observation data available from 1981 to 2017, researchers found that places in two regions – northwest India and southeast coastal regions – are prone to heat waves conditions. Places in these two regions experience heat waves for more than eight days during 2019 summer season.
IMD's heat wave criteria
IMD defines heat wave day when the maximum temperature is above 44 degree C or when all the three following conditions are seen — when region is facing unusually hot temperature, when temperature is more than 36 degree C and when departure from the normal temperature is more than 3.5 degree C.