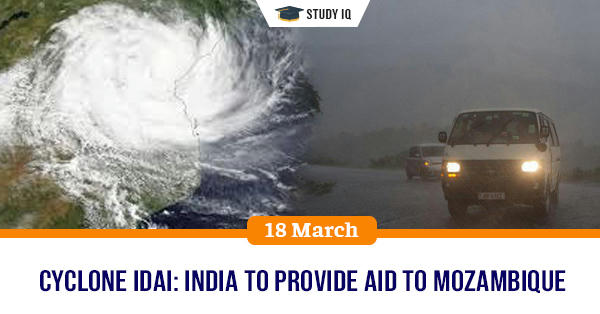 Cyclone IDAI: India to provide aid to Mozambique
Date: 18 March 2019
Tags: Disaster & Disaster Management
India has decided to provide humanitarian assistance to the people in Mozambique affected by tropical cyclone 'IDAI'. It has provided US $10 million to Mozambique for food grains after the country suffered food shortage due to natural this calamity.
As part of assistance, Indian Navy has diverted three Indian naval ships to the port city of Beira in Mozambique. These ships will provide relief materials in the form of food, clothes and medicines.
Cyclone Idai
It had originated from tropical depression that formed off eastern coast of Mozambique.

It made landfall first in Malawi and later in Mozambique and remained a tropical cyclone throughout the entirety of its trek over land.

It was strongest tropical cyclone to strike Mozambique since Jokwe in 2008. It was record-breaking seventh intense tropical cyclone of the 2018–19 South-West Indian Ocean cyclone season,

Strong winds followed by heavy rainfall due to this cyclone has caused severe flooding (mostly flash floods) in three southern African countries Mozambique, Zimbabwe and Malawi, affecting over 1.5 million people.