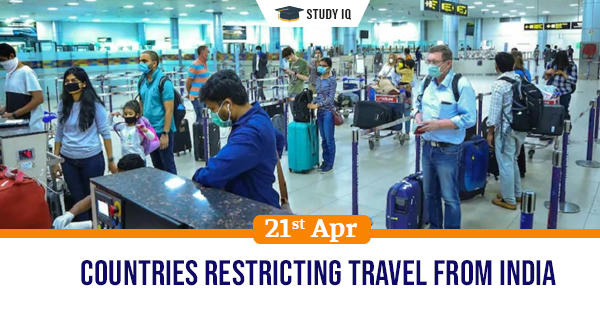 Countries restricting travel from India
Date: 21 April 2021
Tags: Disaster & Disaster Management
Issue
Multiple countries have put travel advices against travel to India after it witnessed a surge in Covid-19 infections in recent times.
Background
Countries such as US, UK and New Zealand have been quick to put restriction on traveller movement to India.
Details
The reason for UK imposing a travel ban is because of the mutated strain of Coronavirus that has originated from India. Hong Kong has also cited a similar reason.

US has increased the assessment to level 4 from level 3, which is the highest level on its threat scale.
Effects
If an individual arrives in the UK from India before 4 am on April 23, they must undergo quarantine for 10 days and take a Covid-19 test on day two and day eight.

After 4am on April 23, individuals who are British, Irish or third country citizens with residential rights will be allowed to enter UK.

US advisory has cited that even fully vaccinated individuals may get infected from the disease and it would be better if they avoid travel.