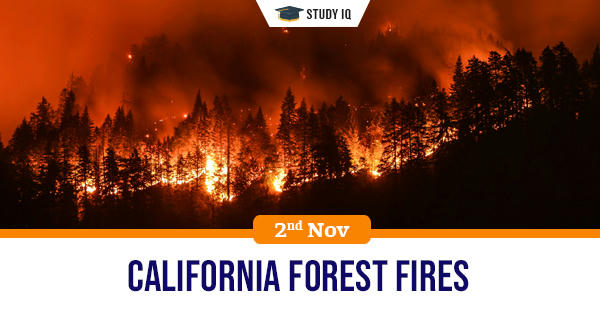 California forest fires
Date: 02 November 2019
Tags: Disaster & Disaster Management
Issue
California is suffering from one of the worst bout of wild fires that has engulfed major parts of the state including cities like Los Angeles. The fires have threatened natural forests as well as orchards and farms.
Background
The dry months in America are very susceptible to forest fires through flammable material. The vast areas of grasslands as well as constant winds have enabled the fires to spread wide.
Details
Fire fighters scrambled to protect valuable citrus and avocado crops in harm's way, as well nearby oil industry infrastructure.

The blaze also threatened high-voltage power lines in the vicinity, along with radio and communications towers.

The latest recurrence of seasonal Santa Ana winds coincided with extremely low relative humidity levels and a prolonged lack of rainfall that has left vegetation tinder-dry in the region has allowed fires to spread quickly.
Wild fires
One of the most prevalent causes of global deforestation and destruction of wildlife is fire.
Forest or wildlife fires spread at different speeds depending on vegetation, weather conditions, and physical features.
Causes
Human causes
Human activities near or within forested areas are the number one cause of forest fires. Smoking near vegetation can cause a widespread fire when a smoker throws a cigarette into vegetation without completely extinguishing.

Equipment such as machinery used in logging and hunting can also cause fires.

Bullets hitting on some dry vegetation may result in fires.

Petroleum products used in logging equipment can cause fires when there is a leak onto the vegetation.

Other causes include campfires that are not well monitored or put off entirely.

People have deliberately caused fires during hunting to corner wild animals while others burn forests to clear the way for agriculture or development activities.

Electric faults from facilities or electricity plants near forests can also cause fires.
Natural causes
Lightning is the biggest natural cause of forest fires. The different lightning strokes of varied electric voltages cause fire through directly igniting vegetation with high currents.

Volcanic activities such as eruptions and lava flow can cause fires.
Prevention
Awareness campaigns on the causes of fires to reduce human initiated fire incidences.
Artificially burning susceptible plants can prevent fires from spreading.