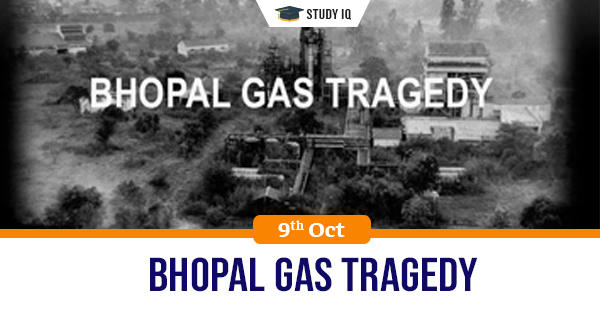 Bhopal gas tragedy
Date: 09 October 2019
Tags: Disaster & Disaster Management
Issue
The centre may soon run out of fund to pay compensation for the Bhopal gas tragedy survivors.
Background
The problem has been caused by the Centre's attempts to tap a fund first, as in 2010, it had estimated 48,000 claimants, but close to 50,000 have already been compensated so far, leading to shortfall of allocated funds.
Bhopal gas tragedy
The Bhopal gas tragedy was a gas leak incident on the night of 2–3 December 1984 at the Union Carbide India Limited (UCIL) pesticide plant in Bhopal, Madhya Pradesh.

It is considered to be the world's worst industrial disaster as over 500,000 people were exposed to methyl isocyanate (MIC) gas.

The UCIL factory was built in 1969 to produce the pesticide Sevin (UCC's brand name for carbaryl) using methyl isocyanate (MIC) as an intermediate. An MIC production plant was added to the UCIL site in 1979.

The chemical process employed in the Bhopal plant had methylamine reacting with phosgene to form MIC, which was then reacted with 1-naphthol to form the final product.
Effects of gas exposure
The initial effects of exposure were coughing, severe eye irritation and a feeling of suffocation, burning in the respiratory tract, blepharospasm, breathlessness, and stomach pains and vomiting.
Mortality
Primary causes of deaths were choking, reflexogenic circulatory collapse and pulmonary oedema.

Findings during autopsies revealed changes not only in the lungs but also cerebral oedema, tubular necrosis of the kidneys, fatty degeneration of the liver and necrotising enteritis.

The stillbirth rate increased by up to 300% and neonatal mortality rate by around 200%.
Long term effects
Eyes: Chronic conjunctivitis, scars on cornea, corneal opacities, early cataracts.

Respiratory tracts: Obstructive and/or restrictive disease, pulmonary fibrosis, aggravation of TB and chronic bronchitis.

Neurological system: Impairment of memory, finer motor skills, numbness etc.

Psychological problems: Post traumatic stress disorder (PTSD).

Children's health: Peri- and neonatal death rates increased. Failure to grow, intellectual impairment, etc.