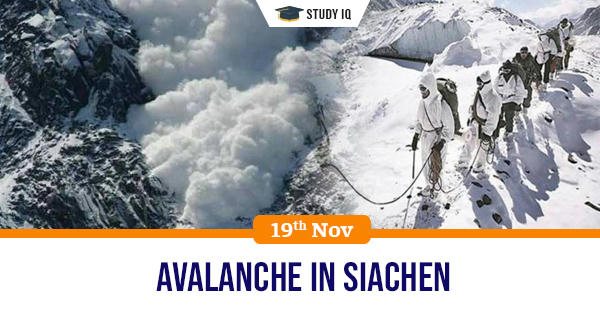 Avalanche in Siachen
Date: 19 November 2019
Tags: Disaster & Disaster Management
Issue
Four soldiers and two civilian porters were killed after an Army patrol was hit by an avalanche at Siachen Glacier in Ladakh.
Background
The avalanche had taken place in the Northern Glacier where the altitude is around 19,000 feet and above. Avalanche and frost bites are the major reasons for death of defence personnel in Siachen, more than battle injuries.
Details
Siachen glacier
The Siachen Glacier is a glacier located in the eastern Karakoram range in the Himalayas just northeast of the point NJ9842 where the Line of Control between India and Pakistan ends.

It is the longest glacier in the Karakoram and second-longest in the world's non-polar areas.

The entire Siachen Glacier, with all major passes, is currently under the administration of India since 1984.

The major passes on this ridge are, from north to south, Sia La, Bilafond La and Gyong La.

The glacier's melting waters are the main source of the Nubra River in the Indian region of Ladakh, which drains into the Shyok River.

The Shyok in turn joins the Indus River which flows through Pakistan. Thus, the glacier is a major source of the Indus.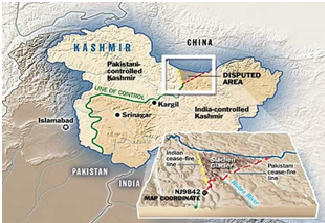 Avalanche
An avalanche (also called a snowslide) is an event that occurs when a cohesive slab of snow lying upon a weaker layer of snow fractures and slides down a steep slope.

Avalanches are typically triggered in a starting zone from a mechanical failure in the snowpack.

After initiation, avalanches usually accelerate rapidly and grow in mass and volume as they entrain more snow.