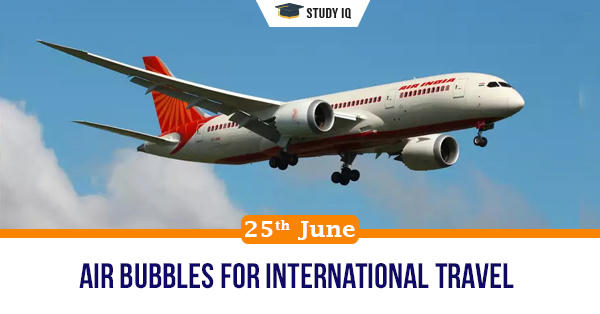 Air bubbles for international travel
Date: 25 June 2020
Tags: Disaster & Disaster Management
Issue
India has proposed to set up air travel bubbles with several countries including the United States, Germany, and France to manage fully or partially to contain the outbreak of COVID-19.
Background
This aims at moving away from controlled and managed aviation evacuation of Indian citizens in different parts of the world and foreign nationals from India.
Details
The concept of a travel bubble, or an air bridge, is reciprocal in nature, which means that both sides, the departure point and the arrival point, have to be on board.

It also means that travel restrictions such as quarantining or testing of passengers have to be discarded among the countries in the bubble.

The finalizing of travel bubbles could be a huge step in the direction of resuming scheduled international air travel, which has been suspended for three months now.

The decision was made public a day after the U.S. served an ultimatum of 30 days to Air India, threatening to ban it from conducting repatriation charters under the Vande Bharat Mission.

New Zealand, which had successfully controlled the spread of coronavirus with zero fresh cases for weeks, relaxed the restrictions on travel into the country, only to almost immediately start recording new cases.
Air bubbles
Creating a travel bubble involves reconnecting countries or states that have shown a good level of success in containing the novel coronavirus pandemic domestically.

Such a bubble would allow the members of the group to rekindle trade ties with each other, and kickstart sectors such as travel and tourism.

Travel bubbles or bridges have been implemented by the Baltic countries of Estonia, Latvia, and Lithuania, which have opened their borders to one another without mandating self-isolation.