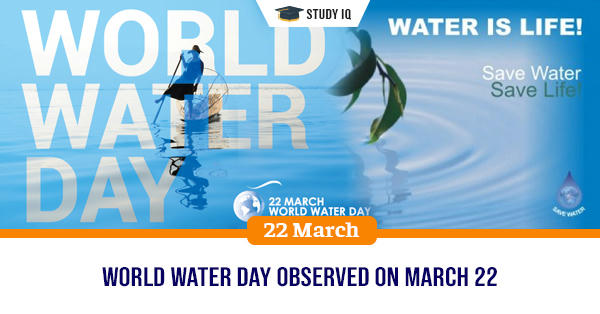 World Water Day observed on March 22
Date: 22 March 2019
Tags: Days & Dates
The World Water Day (WWD) is observed on 22 March every year to spread message of preservation and rationaal consumption of water. The theme for WWD 2019 is 'Leaving no one behind'. It aims to encourages people to consider marginalized groups as these are often overlooked and discriminated against when they try to access safe water. It is according to central promise of the 2030 Agenda for Sustainable Development.
Importance of Day
It is annual United Nations observance day that highlights importance of freshwater.

It is also used to advocate for sustainable management of freshwater resources.

It seeks to highlight importance of universal access to clean water, sanitation and hygiene (WASH) facilities in developing countries.
Background
World Water Day was formally proclaimed in Agenda 21 of United Nations Conference on Environment and Development (UNCED) held in Rio de Janeiro, Brazil in 1992.

Later, UN General Assembly (UNGA) accepted recommendation of UNCED and established this day by adopting resolution A/RES/47/193 in December 1992.

The first WWD was celebrated in 1993. Since then, it is observed annually to draw attention on the importance of freshwater and its sustainable management.

United Nations-Water (UN-Water) is convener for World Water Day and every year selects new theme in consultation with UN organizations that share an interest in that year's focus.

UN-Water coordinates efforts of various United Nations entities and international organizations working on water and sanitation issues.