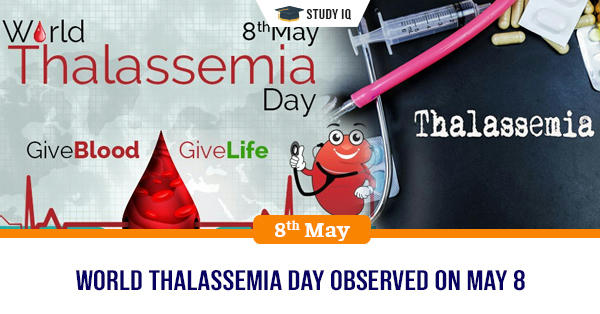 World Thalassemia Day observed on May 8
Date: 08 May 2019
Tags: Days & Dates
The World Thalassaemia Day is observed every year across the world on 8 May to raise awareness about thalassaemia disease, its preventive measures and measures to avoid transmission among the people throughout the world.
Observance of this day seeks to commemorate honour of all patients suffering from this genetic disease also all scientists doing hardwork to provide improved quality of life to people with thalassaemia across the globe.
The theme of 2019 World Thalassemia Day is "Universal access to quality thalassaemia healthcare services: Building bridges with and for patient".
Thalassemia
It is a genetic blood disorder with no cure except bone marrow transplant (BMT). It is characterised by abnormal production of haemoglobin in the body. The abnormality results in improper oxygen transport and destruction of red blood cells and leads to anemia. This leads to iron overload, bone deformities and in severe cases can cause heart diseases. It can be diagnosed by blood tests. It is difficult to prevent it as disorder is passed from parents to children. However, it is treatable disorder that can be managed with blood transfusions and chelation therapy. Some children can be cured by bone marrow transplant.