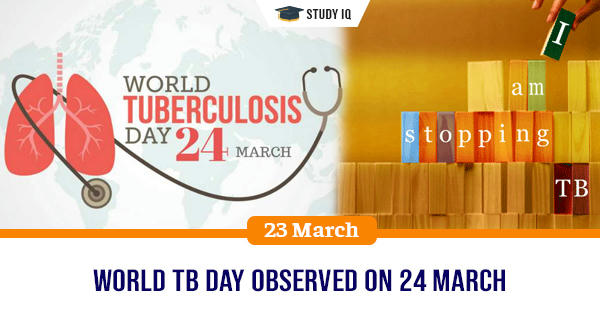 World TB day observed on 24 March
Date: 23 March 2019
Tags: Days & Dates
World Tuberculosis Day (WTD) is observed annually on March 24 to raise public awareness about global epidemic of Tuberculosis (TB) and its devastating health, social and economic consequences and higlight efforts to eliminate the disease.
Significance of day
It commemorates discovery of Mycobacterium tuberculosis, bacillus (bacteria) causing TB on 24th March, 1882 by German microbiologist Robert Koch. This opened way towards diagnosing and curing TB.
The theme of 2019 World TB Day is 'It's time'. It seeks to put accent on urgency to act on commitments made by global leaders to scale up access to prevention and treatment, ensure sufficient and sustainable financing including for research, build accountability, promote an end to discrimination and stigma and promote equitable, rights-based and people-centered TB response.
World Tuberculosis Day (WTD)
It is one of eight official global public health campaigns observed by World Health Organization (WHO). Observance of this day seeks to create awareness among all the stakeholders about the disease and the challenges associated with its control. It also seeks to mobilize political and social commitment for accelerate progress to end TB.
Tuberculosis (TB)
It is disease caused by bacteria "Mycobacterium tuberculosis" that most often affect the lungs. It spreads through the air from person to person by coughing, sneezing, and talking or by touching surface with infected saliva or mucus.. It commonly affects lungs and also may affect other parts of the body.