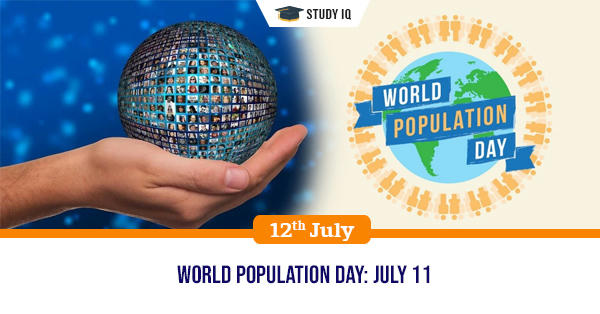 World Population Day: July 11
Date: 12 July 2019
Tags: Days & Dates
World Population Day is observed ever year on July 11 across the world to draw attention on urgency and importance of population issue. It also aims to increase awareness on various population issues such as importance of family planning, maternal health, gender equality, poverty and human rights.
World Population Day 2019 marks 25 years since landmark International Conference on Population & Development (ICPD) held at Cairo (Egypt) in 1994. This event had marked paradigm shift from earlier policies to one that places individual at centre, and respects choice, rights and empowerment. T
The 25th anniversary of ICPD is opportune moment for global community to reflect on the progress made in advancing agenda of Sexual and Reproductive Health and Rights and address remaining challenges.
Background
The World Population Day was instituted by the then Governing Council of United Nations Development Programme (UNDP) in 1989. Later in December 1990, UN General Assembly (UNGA) decided to continue observing World Population Day by adopting resolution 45/216 to enhance awareness of population issues, including their relations to the environment and development.
Why July 11? It was inspired by public interest in Five Billion Day on July 11, 1987. On this date world's approximate population had reached 5 billion people.
It was observed for first time on 11 July 1990 in more than 90 countries. Since then, it is observed annually by number of UN Population Fund (UNFPA) country offices and other organizations and institutions in partnership with governments and civil society.
Concerns: The world population has grown tremendously over the past years. According to UN, every year about 83 million people are added to world's population. By 2030, this pace the world population is expected to reach 8.6 billion mark. The growing population possess threat to livelihood and quick depletion of natural resources. It also hampers Sustainable Development.
10 Most Populous Countries in the World: China (1.4 billion inhabitants,18% of world population), India (1.3 billion,17.7), United States (329 Million), Indonesia (269 million), Brazil (212 million), Pakistan (204 million), Nigeria (200 million), Bangladesh (168 million), Russia (143 million) and Mexico (132 million).