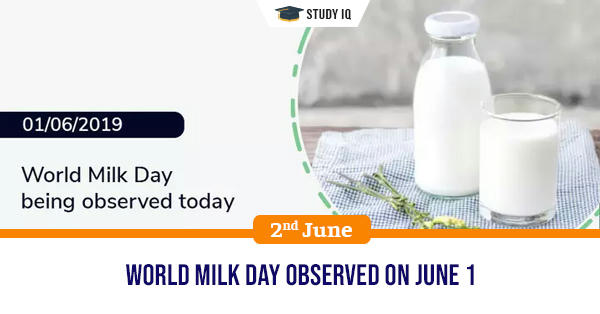 World Milk Day observed on June 1
Date: 02 June 2019
Tags: Days & Dates
The World Milk Day is observed every year on June 1 across the world to recognize importance of milk as a global food. Observance of this day also aims to celebrate important contributions of the dairy sector to sustainability, economic development, livelihoods and nutrition. The theme of this year is 'Drink Milk: Today & Everyday'
Background
The World Milk Day was established by Food and Agriculture Organization (FAO) to provide an opportunity to bring attention to activities that are connected with the milk industry.

Why June 1?

It was chosen as date because many countries were already celebrating a milk day during that time of year.

Purpose of this day

: It provides an opportunity to focus attention on milk and raise awareness of dairy's part in healthy diets, responsible food production and supporting livelihoods and communities.
Food and Agriculture Organization (FAO)
It is specialised agency of United Nations that leads international efforts to defeat hunger. UN Economic and Social Council (UNESC) is its parent organisation. It was established in October 1945. It is headquartered in Rome, Italy. 197 countries are its member states along with European Union.