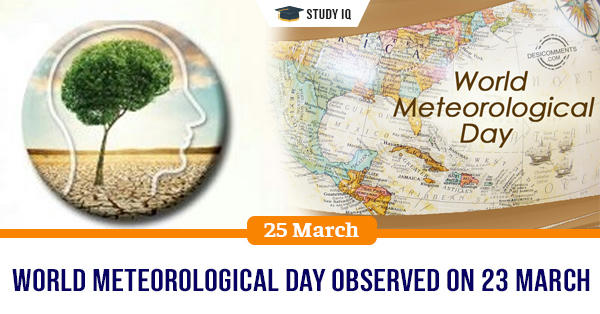 World Meteorological Day observed on 23 March
Date: 25 March 2019
Tags: Days & Dates
The World Meteorological Day (WMD) is observed every year on 23 March to mark coming into force of Convention establishing World Meteorological Organization (WMO) on 23 March 1950.
The theme for WMD 2019 is "The Sun, the Earth and the Weather". It recognises critical role played Sun in functioning of Earth. Sun delivers energy that powers all life on Earth. It drives weather, ocean currents and hydrological cycle. It shapes our mood and our daily activities. It is inspiration for music, photography and art.
World Meteorological Organization (WMO)
It is intergovernmental organization of 192 member states and Territories. Its supreme body is World Meteorological Congress.

It originated from International Meteorological Organization (IMO), the roots of which were planted at 1873 Vienna International Meteorological Congress.

It was established by ratification of WMO Convention on 23 March 1950. Its is headquartered in Geneva, Switzerland.

In 1951, it became specialised agency of United Nations for meteorology (weather and climate), operational hydrology and related geophysical sciences.

World Meteorological Day:

WMO has been celebrating World Meteorological Day since 1961 with a different theme selected for each year.

Its observance aims to showcases essential contribution of National Meteorological and Hydrological Services to safety and wellbeing of society.

The themes chosen for this day chosen every year reflect topical weather, climate or water-related issues.