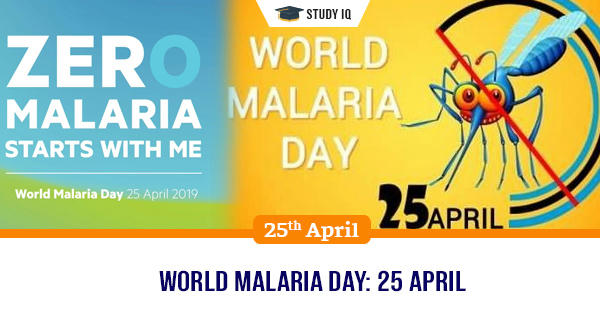 World Malaria Day: 25 April
Date: 25 April 2019
Tags: Days & Dates
World Malaria Day is being observed every year on 25 April across the world to recognise global efforts to control malaria disease. It also seeks to highlight the need for continued investment and sustained political commitment for elimination and control of vector-borne disease malaria.
The theme of 2019 World Malaria Day is 'Zero malaria starts with me'. It is grassroots campaign that aims to keep malaria high on political agenda, mobilize additional resources, and empower communities to take ownership of malaria prevention and care.
World's first Malaria Vaccine
On this occasion, Government of Malawi had launched world's first malaria vaccine known as RTS,S, (Trademark name Mosquirix) in a landmark pilot programme. It is the first of three in Africa in which the vaccine is made available to children up to 2 years of age. Ghana and Kenya will introduce the vaccine in the coming weeks.
Background
World Malaria Day (WMD) was instituted by 60th session of World Health Assembly (WHA), a decision-making body of World Health Organization (WHO) in May 2007. It is aimed at providung understanding and education of vector borne malaria disease and also spread information on year-long intensified implementation of national malaria-control strategies. It is one of eight official global public health campaigns currently marked by WHO.
Malaria Threat: is one of world's leading killer disease, killing 435 000 people a year, most of them children. It claims life of one child every two minutes. Most of these deaths are in Africa, where more than 250 000 children die from disease every year. Children under 5 are at greatest risk of its life-threatening complications.
About Malaria
It is mosquito-borne infectious disease most commonly transmitted through the bite of infected female Anopheles mosquito.

It caused by parasitic protozoans (a group of single-celled microorganisms) belonging to Plasmodium type.

Its initial symptoms include fever, headache and chills which are difficult to detect as malaria. If these symptoms are not treated within 24 hours, they can lead to serious illness and death.

Children suffering from malaria may develop severe anaemia, respiratory distress or cerebral malaria. Adults who have malaria could experience multi-organ failure.

Prevention and Treatment

: Early diagnosis and treatment is the best way to curb spread of this disease.