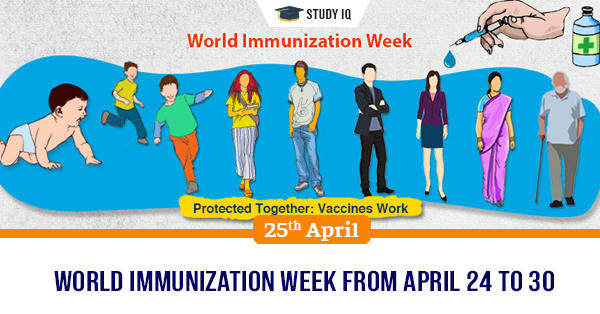 World Immunization Week from April 24 to 30
Date: 25 April 2019
Tags: Days & Dates
The World Immunization Week will be celebrated in the last week of April 2019 (from April 24 to 30). It is global public health campaign of World Health Organisation (WHO) aimed at raising awareness and increase rates of immunization against vaccine-preventable diseases around the world.
The theme of this year is "Protected Together: Vaccines Work!". Its main goal is to raise awareness about critical importance of full immunization throughout life.
This year's world immunization week will also celebrate Vaccine Heroes from around world – from parents and community members to health workers and innovators – who help ensure we are all protected, at all ages, through power of vaccines.
Background
The World Immunization Week was endorsed by WHO-World Health Assembly during its May 2012 meeting. Its goal is to raise public awareness of how immunization saves lives, and support people everywhere to get vaccinations needed against deadly diseases for themselves and their children. It was observed for first time in April 2012, with the participation of more than 180 countries and territories worldwide
WHO estimates that currently over 2 to 3 million deaths are averted every year because of active immunization. However, 22.6 million infants worldwide are still lack basic vaccines, mostly in developing countries.
Inadequate immunization coverage rates often result from competing health priorities, poor management of health systems, limited resources and inadequate surveillance. Expanding access to immunization is vital for achieving Sustainable Development Goals (SDGs), poverty reduction and universal health coverage.