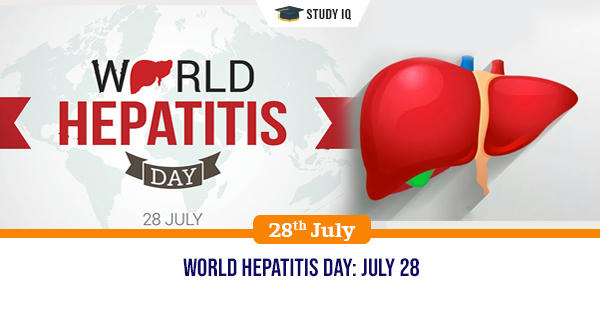 World Hepatitis Day: July 28
Date: 28 July 2019
Tags: Days & Dates
The World Hepatitis Day is being observed every year on July 28 to spread awareness about viral hepatitis. This year's theme was "Invest in eliminating hepatitis". The host country for World Hepatitis Day 2019 was Pakistan.
Purpose of World Hepatitis Day
To encourage diagnosis, prevention and treatment of Hepatitis.

Provide single global platform to raise awareness about hepatitis and influence real change in disease prevention, testing and treatment.
Background
World Hepatitis Day is one of the 8 official global public health campaigns marked by the World Health Organization (WHO). It was proclaimed by WHO by passing resolution in May 2010, thus providing official endorsement to it.
Why 28 July? This day was chosen to mark the birth anniversary of Professor Baruch Blumberg who had discovered hepatitis B virus. He was awarded with Nobel Prize in Physiology or Medicine (1976) for this discovery and also developing diagnostic test and vaccine for the virus.
About Hepatitis
It is an inflammation of the liver which can also progress to fibrosis (scarring), cirrhosis or liver cancer. Its s name has derived from Greek word 'Hepar' meaning liver and 'itis' meaning inflammation.
Cause: It is mostly caused by group of hepatitis viruses. There are 5 types of hepatitis viz. A, B, C, D and E. Each type is caused by a different hepatitis virus. Hepatitis A and E are caused by ingestion of contaminated food or water (transmitted via oral-faecal route). Hepatitis B, C and D are transmitted through contaminated needles/syringes (particularly among the drug users), unsafe blood transfusions or sexual-transmission or even mother-to-child transmission.
Preventive steps for controlling Hepatitis: Sustainable Development Goal (SDG 3.3) eliminating viral hepatitis by 2030calls for. India has included Hepatitis B vaccination under expanded Universal Immunization Programme. Union Ministry of Health and Family Welfare has launched National Viral Hepatitis Control Programme in collaboration with WHO to eliminate Viral Hepatitis as public health threat by 2030 in the country.