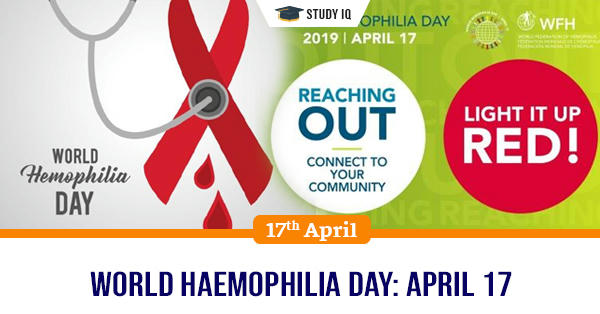 World Haemophilia Day: April 17
Date: 17 April 2019
Tags: Days & Dates
The World Haemophilia Day is observed every year on April 17 to spread awareness of Haemophilia and other bleeding disorders. It honours of birth anniversary of Frank Schnabel who had established World Federation of Haemophilia (WFH), an international non-profit organization in 1963 with headquarters in Montreal, Canada. The theme for year 2019 is "Outreach & Identification".
Haemophilia
It is hereditary bleeding disorder, in which person lacks, or has low levels of proteins called 'clotting factors' and the blood does not clot properly as result.

It is a lifelong disorder, that results in excessive bleeding and many times spontaneous bleeding, which, very often is internal.

There are several different types of haemophilia. Two most common are Haemophilia A (Classic Haemophilia): It is the result of a deficiency in clotting factor 8 and Haemophilia B (Christmas Disease): It is the result of a deficiency in clotting factor 9. This illness is a sex-linked recessive disorder.

Its symptoms includes severe headaches, frequent vomiting, neck pain, blurred or doubled vision, extreme sleepiness, and continuous bleeding from an injury.

There is no known cure or treatment for haemophilia. In case of internal or external bleeding it is mandated to supplement Antihaemophilic Factor level by fresh blood transfusion.

It is more common in men than women. This is because it is caused by a defect in the X chromosome. If girl is born with one defective X chromosome, her other X chromosome can compensate for it. On the other hand, if boy is born with defective X chromosome, he does not have second X chromosome to compensate for it, and will suffer from haemophilia.

There were over 1.96 lakh persons living with haemophilia across the world in 2017 and India has highest count at nearly 19,000.