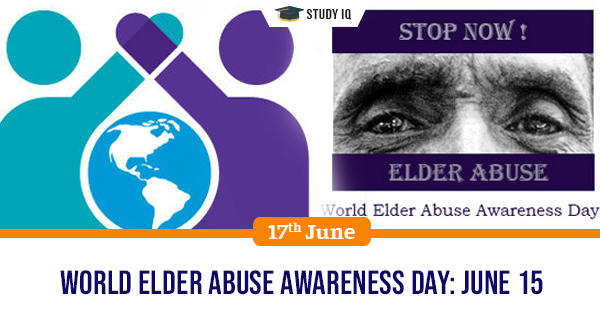 World Elder Abuse Awareness Day: June 15
Date: 17 June 2019
Tags: Days & Dates
The World Elder Abuse Awareness Day (WEAAD) is observed every year across the world on June 15 to highlight the often silent suffering of the elder generation. Its objective is to voice opposition to the abuse and suffering inflicted on elderly people.
2019 Theme: "Lifting Up Voices". It is centered on unifying parallel fields of Elder Justice and Violence Against Women by bringing to forefront the lived experiences of older people around the globe.
Background
The World Elder Abuse Awareness Day (WEAAD) was officially recognized by United Nations General Assembly in December 2011 through resolution 66/127 following a request by the International Network for the Prevention of Elder Abuse.

Purpose of this day:

It aims to raise voice against abuse and suffering inflicted to some defenceless older people. It seeks to highlight elder abuse as a global social issue which affects health and human rights of millions of older persons around the world.

Forms of Elder abuse:

It can take various forms such as physical, psychological or emotional, and financial abuse. It can lead to serious physical injuries and long-term psychological consequences.

Extent of Elder Abuse: G

lobal population of people aged 60 years and older will more than double, from 900 million in 2015 to about 2 billion in 2050.

According to UN, around 1 in 6 older people experience some form of abuse. It is predicted to increase as many countries across the world are experiencing rapidly ageing populations.

Note:

In addition to this day, UN also observes International Day of Older Persons every year on October 1, recognizing contributions of older persons and to examine issues that affect their lives.