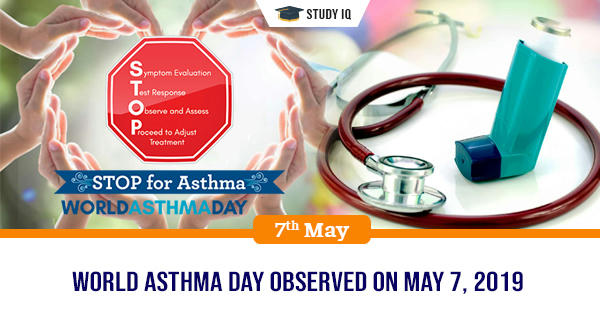 World Asthma Day observed on May 7, 2019
Date: 07 May 2019
Tags: Days & Dates
The World Asthma Day is observed every year across the globe on first Tuesday of May to spread awareness about Asthma and its care around the world. This year it was observed on May 7, 2019. The theme of World Asthma Day 2019 was 'STOP for Asthma'. STOP stands for Symptom evaluation, Test Response, Observe and assess, Proceed to adjust treatment.
Background
Observance of World Asthma Day is annual initiative of Global Initiative for Asthma (GINA) and is observed every year on first Tuesday of May. It was first observed in 1998 in conjunction with the first World Asthma Meeting held in Barcelona, Spain. Since then,GINA every year chooses theme of World Asthma
Asthma
It is common long-term inflammatory disease of airways of the lungs that causes breathing problems. It is characterized by variable and recurring symptoms, reversible airflow obstruction and easily triggered bronchospasms. Its symptoms include episodes of wheezing, coughing, chest tightness, and shortness of breath. It is thought to be caused by combination of genetic and environmental factors. There is no cure for asthma but its symptoms can be prevented by avoiding triggers, such as allergens and irritants, and by use of inhalers to prevent and relieve the symptoms.