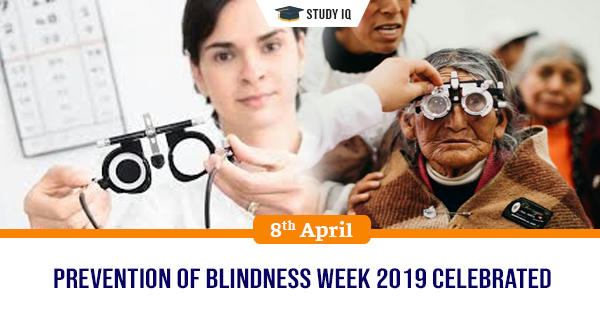 Prevention of Blindness Week 2019 celebrated
Date: 08 April 2019
Tags: Days & Dates
Union Ministry of Health and Family Welfare (MoHFW) celebrated Prevention of Blindness Week 2019 from 1st April 2 to 7th April. It was aimed at increasing awareness towards blind people, their struggles and to understand value of eyes for them across country. It was focused on detection, cure and treatment of eye diseases.
2019 Campaign
For this year, MoHFW and World Health Organisation (WHO) together launched campaign "Vision 2020: The Right to Sight" to prevent blindness.
It aims at paying attention to various risk factors that leads to eye injuries which cause visual impairment. It also seeks to educate people about possible eye problems in periodic eye checkup from an ophthalmologist or eye clinics.
Under this campaign, people and children in schools and villages, will be educated about importance of eye hygiene.
Background
As per WHO report, out of 37 million blind people worldwide, 10 million are from India who are majorly bling due to deficiency of vitamin and another nutritional requirement. This deficiency combined with high prevalence of cataract, which had put many Indians at risk of blindness. Out of 10,000 people born in India, 7 of them have eye-related problems and every year numbers of blind children are increasing due to nutritional deficiencies. The major causes of blindness are trachoma, vitamin A deficiency, malnutrition,cataract, shortage of optometrists and donated eye. Madhya Pradesh and Rajasthan are most affected Indian states with blindness.
Note: The first Prevention of Blindness Week was held in 1960 and was launched by then (first) Prime Minister Jawaharlal Nehru and first health minister of India Raj Kumari Amrit Kaur.