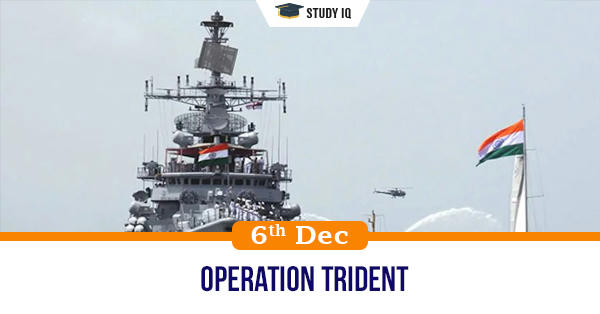 Operation Trident
Date: 06 December 2020
Tags: Days & Dates
Issue
On December 4, India celebrates Navy Day to recognize the achievements and role of the Indian Navy during 1971 Bangladesh liberation war.
Background
December 4 is celebrated as Navy Day to commemorate the decisive naval action by the Indian Naval ships on Karachi Port.
Details
Operation Trident was an offensive operation launched by the Indian Navy on Pakistan's port city of Karachi during the Indo-Pakistani War of 1971.

The attack was successful as it sank a minesweeper, a destroyer, and an ammunition supply ship. The Indian Navy planned the attack at night as Pakistan did not have aircraft that could carry out bombings at night.

The Indian attack consisted of 3 Vidyut class missile boats, 2 anti-submarines, and a tanker.

After the operation, there were no casualties from India, though 5 Pakistani sailors and over 700 men were injured.

The Indian Navy's three warships -- INS Nipat, INS Nirghat, and INS Veer -- played an important role in the attack.

A strike group under Western Naval Command was formed for this mission. This strike group was to be based around the three Vidyut-class missile boats already deployed off the coast of Okha.

INS Nipat perhaps did the biggest damage by taking down the Kemari oil storage tanks with the missile hitting its target.

The oil tank was hit causing an acute shortage for Pakistani vessels disabling their economic link and their ability to fight back.

India launched Operation Python in order to repel any Pakistani retaliation. India did not suffer any casualties even as Pakistani ships launched an attack and a Pakistani tanker was destroyed.