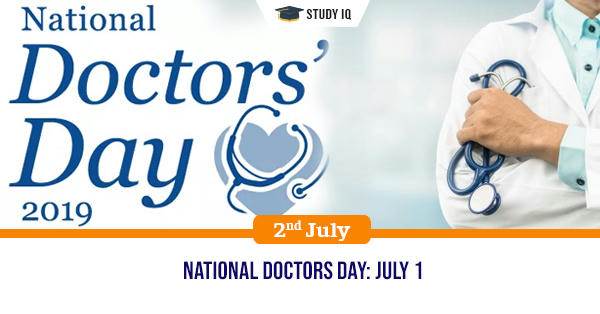 National Doctors Day: July 1
Date: 02 July 2019
Tags: Days & Dates
The National Doctors' Day is observed every year across India on 1 July to express gratitude and acknowledge commitment and dedication of the doctors' towards our society. It also aims to honour legendary physician and second Chief Minister of West Bengal Dr Bidhan Chandra Roy whose birth and death anniversary coincides on the same day. The theme for National Doctor's 2019: 'Zero tolerance to violence against doctors and clinical establishment'. It is meant to raise awareness about violence happening with doctors across India.
Dr Bidhan Chandra Roy
He was highly respected physician, renowned freedom fighter, educationist, philanthropist and politician.

He was born on 1 July 1882 in Patna (Bihar) and died at age of 80 years on 1 July 1962 in Kolkata (West Bengal).

He was an alumnus of Medical College Calcutta of University of Calcutta. He was member of the Brahmo Samaj.

Political Career:

He was second Chief Minister of West Bengal and remained in his post for 14 years from 1948 until his death in 1962.

Contributions:

He was instrumental in formation of Indian Medical Association (IMA) in 1928 and also in establishment of Medical Council of India (MCI). He is often considered architect of West Bengal. As CM, he had founded five cities of West Bengal Bidhannagar, Durgapur, Ashokenagar, Kalyani and Habra.

Honours and Recognitions:

He was awarded India's highest civilian award Bharat Ratna in 1961. Union Government has instituted National Doctor's Day in 1991 in his memory. Besides, it also has instituted Dr BC Roy National Award in his memory.