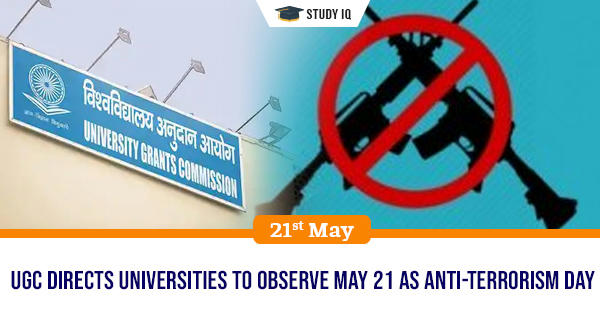 UGC directs universities to observe May 21 as Anti-Terrorism day
Date: 21 May 2019
Tags: Days & Dates
The University Grants Commission (UGC) has directed universities and higher educational institutions to observe May 21 as Anti-Terrorism Day to wean the youth away from terrorism. It also suggested activities for the day including debates, discussions, symposium, pledge taking ceremony and screening of films as per recommendations of Ministry of Home Affairs.
Background
The Anti-Terrorism Day is observed every year throughout India on May 21 to spread awareness among people about dangers of terrorism and violence and its effect on people, society and the country as a whole. Its objective is to wean away the people from terrorism and violence and show how it is prejudicial to the national interest. It also aims to promote unity, peace and harmony across the nation.
Why May 21? The day marks the death anniversary of former Prime Minister Rajiv Gandhi who was assassinated at an election rally near Chennai by a suicide bomber from Liberation Tigers of Tamil Eelam (LTTE) on 21 May 1991.