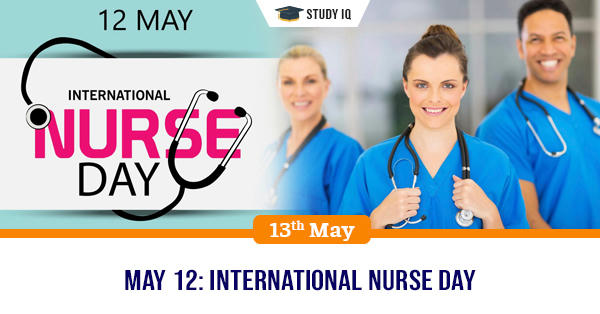 May 12: International Nurse Day
Date: 13 May 2019
Tags: Days & Dates
The International Nurse Day (IND) is observed every year across the world on May 12 to mark the birth anniversary of Florence Nightingale, the founder of modern nursing. It also celebrates supreme contribution of nurses towards the society, healthcare and wellbeing of people. (Note: May 12 is celebrated as Mother's Day)
The theme chosen by International Council of Nurses (ICN) for 2019 IND was 'Nurses: A voice to lead - Health for All". It focuses on need for nurses to become more active and vocal in policy development and implementation.
On this occasion, every year President of India conferred National Florence Nightingale Awards to nursing personnel from across the country for selfless services rendered by nurses with devotion, sincerity, dedication and compassion.
Background
The history of International Nurses Day dates back to 1965 when it was officially proclaimed and celebrated for first time by International Council of Nurses (ICN). It was first proposed by Dorothy Sutherland, officer from United States (US) Department of Health, Education and Welfare in 1953.
Why May 12? The date was chose to celebrate birth anniversary Florence Nightingale, of the founder of modern nursing and was famous as manager and trainer of nurses during Crimean War. She was born on May 12, 1820.