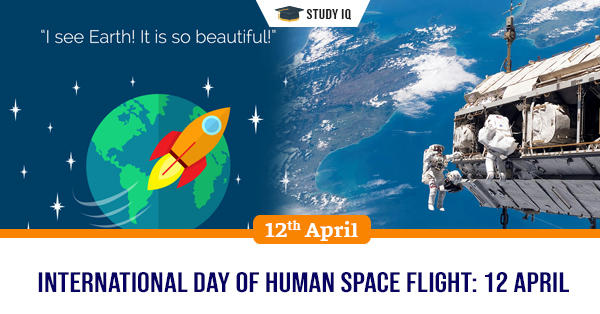 International Day of Human Space Flight: 12 April
Date: 12 April 2019
Tags: Days & Dates
The International Day of Human Space Flight is observed every year on 12th April to commemorate the date of the first human space flight in the history of mankind. On this day in 1961, Soviet Union (USSR) cosmonaut Yuri Gagarin had successfully undertaken first successful first human space flight.
Gagarin had made one orbit around Earth in over 108 minutes onboard of Vostok 3KA spacecraft which was launched by Vostok-K launch vehicle. This historic event opened way for space exploration for the benefit of all humanity.
In Russia and former USSR countries, this historic scientific feat is celebrated as Cosmonautics Day. 2019 is the 58th anniversary of First Human Space Flight.
Background
International Day of Human Space Flight on 12 April was proclaimed by United Nations (UN) after UN General Assembly (UN) had adopted resolution A/RES/65/271 on 7 April 2011. The purpose of this day is to celebrate beginning of the space era for mankind. It also seeks to reaffirm important contribution of space science and technology in well-being of peoples and states, in achieving sustainable development goals and to maintain outer space for peaceful purposes.