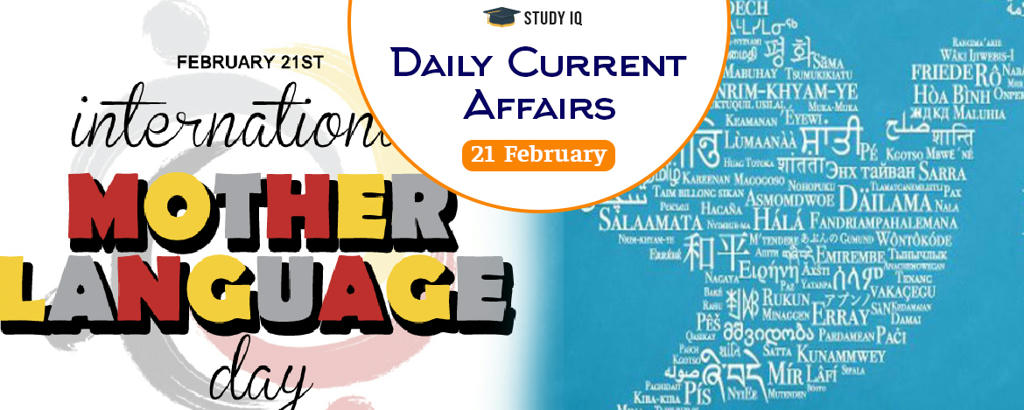 February 21: International Mother Language Day
Date: 21 February 2019
Tags: Days & Dates
The International Mother Language Day (IMLD) is observed every year across the world on 21 February to promote awareness of linguistic, multilingualism and cultural diversity. This year it is 19th anniversary of IMLD. Theme for year 2019 is "Indigenous languages matter for development, peace building and reconciliation".
Significance of day: It highlights importance of mother language as the greatest weapon to express one's feeling. Mother Language of particular country is sign of independence of that country. It reminds us about words that connect us, empower us and help us communicate our feelings to others.
Background
There are 7,000 languages in the world. According to Census 2001, India alone has about 22 officially recognised languages, 1635 rationalised mother tongues, 234 identifiable mother tongues.

International Mother Language Day was first observed in 1999 by UNESCO. It was officially instituted by United Nations General Assembly (UNGA) by passing resolution 61/266 in 2007 to promote preservation and protection of all languages used by peoples of the world.

Since 2007, this day is observed annually by member states to promote linguistic and cultural diversity and multilingualism.

The idea to celebrate this was initiative of Bangladesh. In Bangladesh, 21 February is the anniversary of the day when Bangladeshis fought for recognition for Bangla language.
Bangladesh's Language Movement
On this day in 1952, scores of people (activists), mostly students and teachers of the Dhaka University, were mercilessly shot down by the Pakistani army in erstwhile East Pakistan (now Bangladesh).

The activists had protested against imposition of Urdu as national language by side-stepping Bengali – their mother tongue. This protest came to be known as Language Movement.