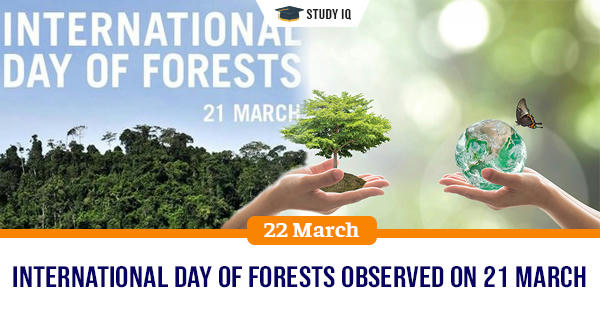 International Day of Forests observed on 21 March
Date: 22 March 2019
Tags: Days & Dates
The International Day of Forests is observed annually on 21 March to raise awareness of importance of forests to people. It also seeks to highlight vital role played by forests in poverty eradication, environmental sustainability and food security. The theme for year 2019 is "Forests and Education". It seeks to raise awareness on how sustainably managed forests provide wide array of contributions in this area. It will also provide opportunity to highlight specific forest contributions to 2030 Agenda for Sustainable Development (Sustainable Development Goals).
Background
International Day of Forests was proclaimed by United Nations General Assembly (UNGA) by adopting resolution A/RES/67/200 in November 2012.

The resolution encourages all Member States to organize activities for creating awareness relating to all types of forests.

The first International Day of Forests was observed on 21 March 2013 and since then it is observed annually.

The theme for each International Day of Forests is chosen by Collaborative Partnership on Forests.
Collaborative Partnership on Forests (CPF)
It is informal, voluntary arrangement among 14 international organizations and secretariats with substantial programmes on forests.

It was established in April 2001. It is chaired by Food and Agriculture Organisation (FAO) and is serviced by the United Nations Forum on Forests (UNFF) Secretariat.

It aims to promote sustainable management of all types of forests and to strengthen long-term political commitment to this end.

Its objectives are to support work of UNFF and its member countries and to enhance cooperation and coordination on forest issues.

It provides common platform to its member organisations to streamline and align their work and to find ways of improving forest management and conservation and the production and trade of forest products.