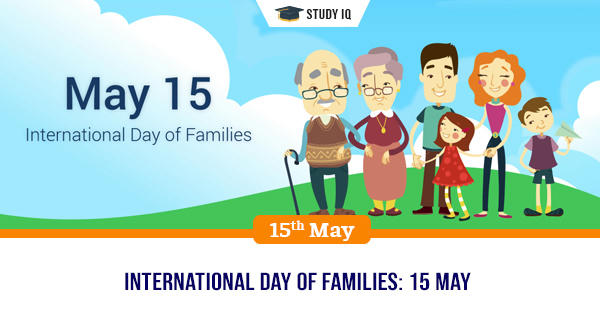 International Day of Families: 15 May
Date: 15 May 2019
Tags: Days & Dates
The International Day of Families is observed every year across world on 15th May. The purpose of this day is to promote awareness of issues related to families and increase knowledge about social, economic and demographic progression that affects families which are the basic unit of society.
2019 Theme
"Families and Climate Action: Focus on SDG 13". It focuses on families, family policies and advancing major SDG 13 targets –
SDG 13 target 13.2: Integrating climate change measures into national policies, strategies and planning.

SDG 13 target 13.3: Improving education, awareness-raising and human and institutional capacity on climate change mitigation, adaptation, impact reduction and early warning.
Background
The International Day of Families was proclaimed by United Nations General Assembly (UNGA) in 1993 by adopting resolution A/RES/47/237. Its objective is to reflect importance international community attaches to families and promote awareness of issues relating to families. Every year UN secretary-general makes to particular applicable motto (theme) attention to celebrate this day.