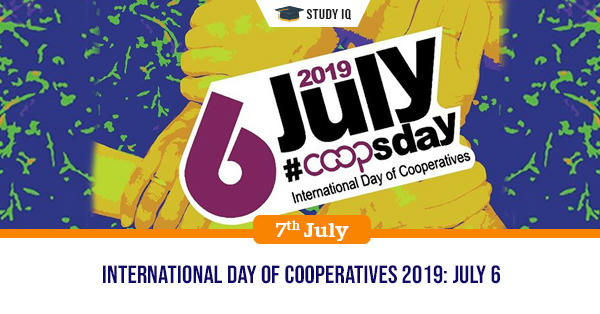 International Day of Cooperatives 2019: July 6
Date: 07 July 2019
Tags: Days & Dates
The International Day of Cooperatives (IDC) is observed on first Saturday of July, ever year across the world to promote co-operative model as it contains core aspects of sustainable development and is based on ethical values and principles. This year it was observed on July 6, 2019 with theme 'COOPS 4 DECENT WORK'.
Background
International Co-operative Day (IDC) was proclaimed as first Saturday of July by United Nations General Assembly (UNGA) by adopting resolution 47/90 in December 1992 to mark centenary of establishment of the International Cooperative Alliance (ICA).
Objective of Day: It aims to increase awareness of cooperatives. It also underscores contributions of cooperative movement to resolving major problems addressed by UN and to strengthen and extend partnerships between international cooperative movement and other actors.