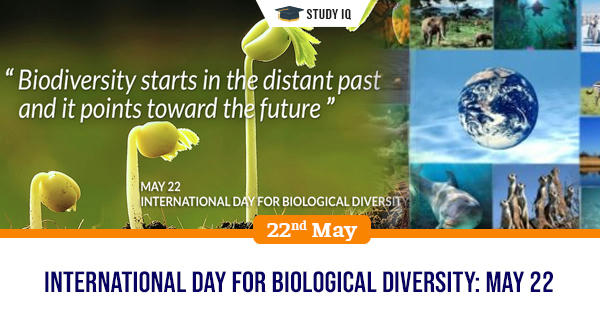 International Day for Biological Diversity: May 22
Date: 22 May 2019
Tags: Days & Dates
International Day for Biological Diversity is celebrated every year on 22 May to increase understanding and awareness of biodiversity issues. This day marks coming in force of Convention on Biological Diversity at United Nations Environment Progamme Headquarters, Nairobi on 22 May 1992. This day was proclaimed by UN General Assembly in 2000 via resolution 55/201.
2019 Theme
"Our Biodiversity, Our Food, Our Health". It highlights importance of biodiversity as foundation for our food and health. It aims to leverage knowledge and spread awareness of dependency of food systems, nutrition, and health on biodiversity and healthy ecosystems. It also celebrates diversity provided by natural systems for human existence and well-being on Earth, while contributing to other Sustainable Development Goals (SDGs), including climate change mitigation and adaptation, ecosystems restoration, cleaner water and zero hunger, among others.
Impact of human diet on Biodiversity
The global diet as a whole is becoming more homogenized, and which is dangerous thing. In the last 100 years, more than 90% of crop varieties have disappeared from farmers' fields. Locally-varied food production systems are under threat, including indigenous, traditional and local knowledge.
Convention on Biological Diversity (CBD)
It is the international legal instrument for "the conservation of biological diversity" that has been ratified by 196 nations including India.

It is legally binding document. It is outcome of Rio de Janeiro Earth Summit 1992 and entered into force in December 1993.

Objectives:

(i) Conservation of biodiversity, (ii) Sustainable use of its components and (iii) Fair and equitable sharing of benefits arising from genetic resources.